Here at ONEiO we love to research and explore all the new tools on the market, so we can continue to support our industry around getting the best ROI possible out of their software. We recently had a big chat in the team about what were the coolest new marketing tools we had come across and here are a few of our favourites!
Percolate
Percolate is a great content strategy tool. It has grown a lot in the past year or so and branched out into a lot of new features. But at its heart, Percolate helps you gather basic insights around what is working well with your audience, then enables you and your team to collaborate over the workflow and publishing of content. Lots of easy to use drag and drop tools that will help you to deliver really great, content-led campaigns!
Content Cal
A pretty new challenger product in the social media scheduling space. The free to use version is packed with great features and its pretty affordable to move up to the more pro. level features too. Content Cal is essentially working to remove a lot of the weight and complexity from social media scheduling that you'll now find in some on the incumbent players like Hootsuite and Sprout. It's particularly great for those teams who are currently doing too much social marketing manually and have struggled to adopt the more enterprise level tools.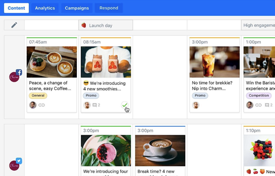 Turtl
A recent bloomer into the market, Turtl is a content creation tool with some big and compelling differences. It allows you to build pieces of highly interactive content, which are essentially super charged landing pages or micro-sites. From almost e-zine style content, to just beautiful looking lead-gen landing pages. You then have some really powerful analytics behind that give you great insights into what sort of content is working well with your audience.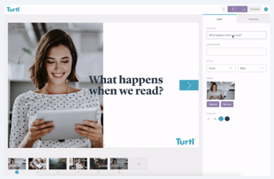 Buzz Sumo
If you want to know more about how well both your own and your competitors' content is doing across social, BuzzSumo is where you should be looking. It's got a pretty high price point beyond it's free to access tools, but it'll give you access to a wealth of social analytics and insights. You can also use it to carry out research on your audiences and industries, so you can start planning content creation more accurately around what your audience is actually looking for and engaging with.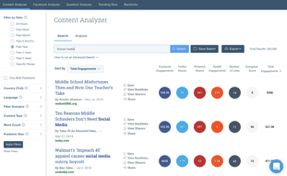 Coverage Book
Here's one for all the PR people out there. Coverage book completely automates and simplifies the process of putting your regular PR coverage reports together. Where PR people and teams would have previously been using spreadsheets and slide decks to gather and present PR success, they can now just point Coverage Book at the content and news that needs collecting up and it will do the rest of the hard work for you. It will gather up a lot of the analytics and data you need to, then curate and present it in a stunning and easy to read Report. Which you can then either share online, create PDF copies of and so on. It's a revolution in an area of PR and marketing, which otherwise hasn't had a great deal of innovation for a long time.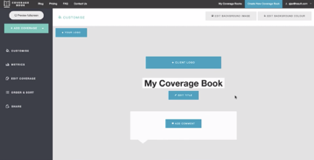 What tools are you using?
Here are ONEiO, we're fascinated by what tools and software people are using, particularly when it comes to using multiple pieces software together across a variety of teams and functions. ONEiO is a cloud-based integration service, which helps you connect all your tools and processes together seamlessly, in the quickest, simplest and reliable way.
If you would like to chat to someone about how to better connect your sales, marketing, customer service, CRM, HR or IT tools, just get in touch with our expert team today.
BTW, we have ready made integration adapters to Hubspot and Dynamics already available. Just subscribe to ONEiO and your integration between Hubspot and Microsoft Dynamics is done!
Read more:
Guide to Customer Experience Integration
How to integrate customer experience and IT?