What role does a Business Leader play in an integration project?
Surely as the business leader, you're busy on other things… and the nuts and bolts of how software works is for other areas of the business?
You might think this. But you'd be missing a very important and strategic factor, which is that integration is changing. And it's changing fast. Integration used to be a technology thing, allowing the IT people to connect up one system to another. However, integration is now a business capability. Much like operational efficiency and operational stability.
If you are the kind of business leader who sees value in managing the overarching capabilities of your business as something to take interest in. It is time to invest time, thought and conversation into integration.
To begin within, stop looking at integration as a method of connecting software and services. Turn this idea on its head and look at the people and teams instead. Integration is now the means by which you the organisation, enable people to collaborate. They are constantly investing in new tools, developing new processes and innovating new ways of working. This is because they want to be the best at what they do, in order to make your brand the best at what it does.
But as their list of tools and processes grows, the complexity between each person and team starts to grow to. What used to be a simple process of sharing a spreadsheet, is now managed across four new applications and 25 more people. This is good news, because it means you've increased everyone's individual capability. But this also comes with added pressure to integrate… and that pressure is mounting day by day.
You can relieve this pressure by easing the communications and exchanges of data between everybody. Traditionally, this looks like creating manually managed connections (for example; more meetings, scheduled calls or emailing over data sets to uploaded etc). Or we build technical integrations, which often required a depth of technical knowledge, project management and on-going maintenance.
Now we just use integration hub or 'Next Generation IPaaS' solutions. This reduce 6-12 month integration projects to one-day setup timeframes and removes the need for any specialist technical knowledge. Most importantly these solutions are highly scalable. So, as you add more apps and create more innovative ways of working, the integration solutions keep up and requires no real maintenance.
The issue most leaders face, is that they don't know about this way of working. They are stuck with old technology and old methods. Therefore, there has to be change and quite often that change needs to come from above.
How do you play your part?
1. Start the conversation
Figure out who is currently holding the 'integration' mantle and ask them what is going on. Where are they seeing the most value lost, and productivity wasted. If they have pushed for investments in new technology, software and methodologies, what more support are they looking for to see these things through to success? Then get them to think more about treating integration as a capability.
2. Materialize the strategy
Ask the key people to research their own needs and the needs of the teams around them. Encourage them to challenge themselves in terms of the levels of collaboration they see around them. Then present some simple plans for improving the links, communication and integration between each business function they look after.
Give them the direction and permission to explore new solutions such as Next Generation IPaaS and have them analyse the cost savings they will create by making the shift to a more modern way of working. Let them bring the next steps to you.
3. Learn the language
Next Generation IPaaS, integration hubs, integration automation platforms, connections and exchanges. These are all terms used by the people on the ground implementing new integration solutions. These might feel like technical terms, but they are in fact the words you will soon be using to create more movement and growth in your businesses ability to collaborate. As I have said, integration is a business capability now, and it comes with its own set of rules and words, which everyone can use to work from the same place. Understand your role, learn the words and take-action.
Get the guidance you need to succeed
We have prepared a quick to consume and highly informative guide for CEOs who want to begin increasing their businesses ability to integrate and collaborate.
You can download the guide for free here. It takes less than 20 minutes to read and you'll instantly walk away with a wealth of knowledge to use within your organisation and then you'll be ready to start your journey with us. Get Started Here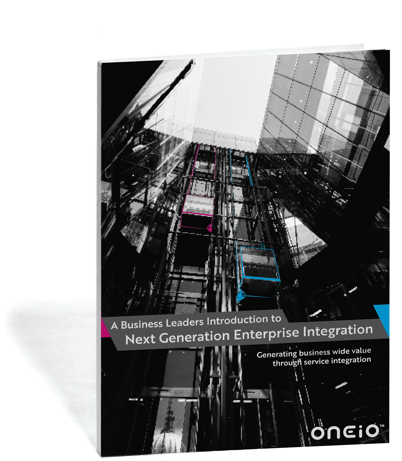 Click Here to request a copy of our ""A Business Leaders Introduction to Next Generation Enterprise Integration"