The next evolution of IPaaS and Service Integration solutions is now well and truly with us. However, many businesses are yet to make the leap forward and are stuck with their same old, slow and expensive implementations. The traditional ways of doing things rely heavily on API-led integrations, hand-coded connections and third parties to oversee setup and maintenance.
For those businesses who have now made the switch to the latest integration tools and integration hub solutions are gladly feeling the benefits of leveraging Next Generation iPaaS. As a result, new integrations are quick and easy to create, existing integration don't fail or break. Changes are all managed in-house by a wide range of employees and teams.
Let's take a deep dive in to handful of specific benefits and see exactly why you should be putting your money into a Next Generation iPaaS solution right now.
1. Don't get left behind
There is nothing worse than waiting to see whether a certain thing is actually going to become certain or not… then getting your fingers burnt by senior management when they come banging on your door, wondering why you never made the move. This isn't just about embarrassing conversations, it's about competition. 20 years ago, IT was some pain in the neck team that kept saying 'NO' to things.
Now it is the forefront of innovation and disruption in every market and business. When businesses want to make fast and exciting moves within their market space, they need to make sure IT is helping to lead the change and applying their specialist skills and technologies to make the business more competitive.
Integration is one of the single most effective technical competencies for improving competitiveness, as it allows you to manage how every tool, process and team communicates across the organisation. Waiting 30 weeks to connect up your CRM to your new payment system isn't good enough. It needs to be done in a day or you risk get over taken by a competitor who has their integration game nailed down tight.
2. Traditional iPaaS is slow
Next Generation iPaaS solutions allows you to move quicker, make fast and powerful changes and enables agility across the whole business. If you are stuck using solutions such as Dell Boomi, Mulesoft or Informatica, you are already at a speed disadvantage. These are comprehensive solutions, but rolling out new integrations requires code, API's and rigorous testing.
Developing, improving and launching new services means you need to have faith in the technology you're using and not relying on third parties to 'make things happen' for you. We meet businesses regularly who are leaning way too much on managed service providers or internal project managers for the integration implementations and changes. In 2019/20 this is something they should be doing by themselves in real-time, by using simpler and quicker to use solutions for iPaaS and integrations.
Read more: iPaaS is obsolete. What's next?
3. …and Expensive!
Lots of tools will happily advertise 'Starting at $$$ prices…'. However, as soon as you want something more complex like multiple integrations, message queuing or support, you're on the phone to an enterprise account manager who wants five figures a month from you. Old fashioned iPaaS solutions have built in complexity, which makes them inherently expensive. Modern integration solutions, should be 100% subscription based, offer a single and wholistic set of features and never come with a setup cost.
Most integration solutions are managed services, disguised as software solutions, so when you look back at 2-3 year's worth of integration costs, you find a wide range of (not even very well hidden) costs related to support, setup, maintenance, changes and consulting. Modern iPaaS takes all the accumulated cost away by making integration 100% truly based in software and self-service.
Try our calculator and see how to reduce 80% of your integrations' total cost of ownership and gain 4 times faster time to value. Download calculator.
4. It's a low risk investment
Next Generation iPaaS will quickly reduce your overall costs, but more importantly it makes your costs far more predictable. With ONEiO, you will only ever pay for the integrations you use, so you have complete control over your costs, simply through your usage of active integrations. Integration are also quick and easy to setup (most can be up and running in less than a day) and can be run alongside any existing iPaaS solution, so you can make your migrations as quickly or slowly as you choose to.
As a result, you can reduce costs in a managed and predictable way, by planning your move to Next Generation iPaaS one integration at a time, with no catches or increased costs for 'more complicated' integrations or those that need support to setup. Each integration costs exactly the same and is totally managed by you. You can get started in very low cost but still get enterprise grade solution.
5. Instantly boost your flexibility, agility and speed
Again, you want to be a competitive business and your technology and teams are your single biggest weapon in the battle field. You need to double down on the skills and tools that make you great and quickly fix the weak links in your armour. Integrations literally hold your sales, marketing and service management functions together, so you have to give them the very best opportunity to communicate, collaborate and share.
New-age integration solutions don't just hold the tools and processes together though. They offer a new level of capability around introducing new tools and services, testing out new improvements and maturing the way data and knowledge is passed around from team to team. Flexibility, agility and speed are the greatest outcomes high-performing integrations can create for your business.
Read more:
The future of integration platforms
A step-by-step guide to next generation iPaaS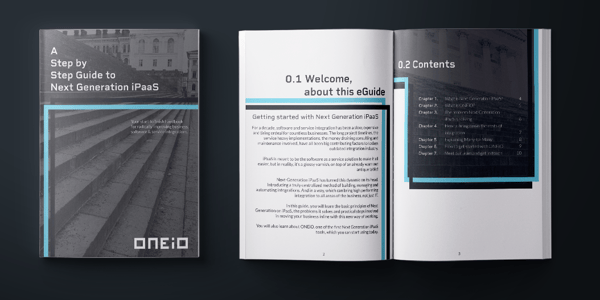 Get started
If you are dragging along an old iPaaS solution and sitting on a backlog of integration improvements, it is time to move on.
ONEiO is the market leading Next Generation iPaaS solution and offers businesses the opportunity to turn integration into a genuine competitive advantage in their marketplace - subscribe to free 14 day trial. If you can't afford to throw even more money at another costly contract renewal with your current integration provider, talk to our expert team of integration specialists today.