As a Managed Service Provider (MSP), whenever you take on a new customer you will need to forge some conversation and expectation around how support requests will be created and managed. For some MSP's this is a pretty straight forward process and the customers just go along with whatever system you have in place.
But there is another version of events, where customers get frustrated and confused as to why they now need to use another system for reporting issues to their MSP, instead of using the service desk tools they already have in place. This either ends up with some sort of messy login-sharing solution within the customer's service desk software, or some half-baked attempt to integrate the two tools.
Whatever the route you take, there is always a long negotiation at the start and a messy, one-sided solution at the end.
Read more: Multi vendor integration is no simple task
The problems with 'sharing' tools
Sharing tools across organisations is a nightmare. It leaves the people on the ground with a difficult to manage and duplicated workload, which often leads to a growing tension between the two parties. This isn't just about technology though; it is also process, people and teams. Using a specific toolset comes with a level of process, sometimes it is documented and sometimes it is not. But regardless of what is written down, the way in which people choose to use these tools is the process.
This is a really difficult thing to manage across multiple organisations and teams using the same tools, as people like to work the way they work. Any exposure to being told to work a different way, simply for someone else's benefit, is frustrating and demotivating. And this is where problems, conflicts and failures to perform well stem from.
Why you might hesitate to use an integration
For many MSP's the obvious answer is an integration. If we can't share tools, then we have to find a way to connect things up. However, these decisions often lead to hand-coded integrations, relying on APIs and depending on one or two specific people to look after and maintain the code. This results in a lot of manual management, outages and difficulties in scaling.
Because of this, vendor integration has become a 'last resort' solution for many MSPs. The expense and on-going management can make 'just making do' with sharing logins and software for long periods of time or taking on the customer in a 'no, you have to use OUR tool' negotiation.
TIP #1: People, Process and THEN Tools
The magic trick needed to move passed these blockers, is to take the software out of the conversation. When you meet with your customers and begin by discussing how they work, what processes they follow, what takes up a lot of time or what 'quick wins' they've already put in place… you can start to build up a picture of what you are really trying to fit in with.
Integration isn't about one side changing their behaviour to meet the needs of the other. It's about combining strengths, working together and reducing waste on both sides. Everyone should benefit respectively and have equal opportunities to continue working in the ways that suit them best.
When you rush or skip the people and process discussions, and just focus on what the technology can (or cannot do) you cheat both parties out of amazing opportunities.
The most positive step you can as an MSP, looking to create a high-performing integration between Service Desk and/or ITSM tools is investing in sharing your best knowledge and skills with your clients, then offer them the chance to share the same with you.
Read more: integrating multiple service desks? threat or opportunity?
Tip #2: Integration Automation Platform makes it quick and easy
People and process is the start of the journey, but there is avoiding the fact that technology is just as important. Not only because it plays a huge part in facilitating the actual data and information within the integration, but because it is also the bit that historically fails and leaves you with mud on your face (and it's expensive).
But these costs and risks are very much problems of the past. The traditional methods of hand-coding, using APIs and investing in third parties to manage integrations are still of course wide spread solutions, but they are gradually becoming phased out by the use of the Integration Automation Platforms.
The use of the Integration Automation Platform (aka Nect Generation iPaaS), such as ONEiO enables you and your customers to seamlessly work from your own set of tools and processes, with no lengthy b2B integration setup or code to maintain. Most common software integrations come pre-configured 'out-of-the-box' and can be connected to unlimited number of applications, through an integration process we call 'Many-to-Many'.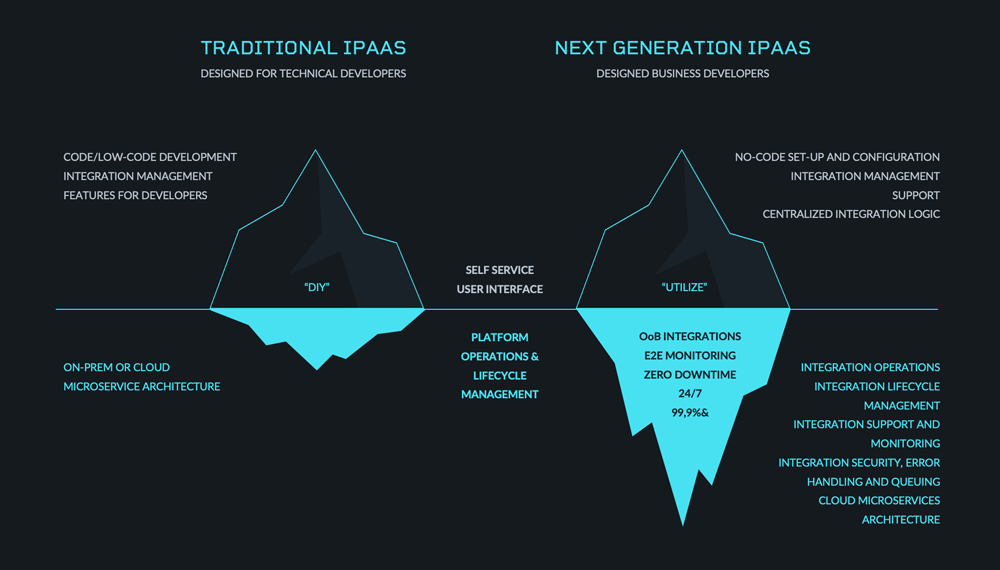 The Integration Automation Platform provide faster, cheaper and far more scalable solution to connecting up Service Desk, ITSM and other IT solutions. ONEiO, is a worlds first subscription-based integration automation platform, which enables users to only ever pay for the connections they use and avoid any upfront setup costs too. This provides MSPs with a huge advantage over their competition, in terms of how much cost they need to pass on to their own customers when providing even the most complex integrated solutions.
Success story: AHEAD needed a solution that would seamlessly integrate not just ServiceNow and the end-customer, but also their monitoring solution, LogicMonitor
TIP #3: Get in touch
If you would like to speak to our expert team of integration specialists about any of the ideas and solutions discussed above, you can get in touch today and we will be very happy to hear more about your integration goals. Or take a look at our customer integration offering for Managed Service Providers