Most IT teams trick themselves into thinking they have an enterprise integration strategy, when really all they have is a system integration project plan. I have spent over a decade working with IT teams and pretty much all of them, when asked to present a strategy either have nothing at all or pull out a spreadsheet of dates and tasks.
Your integration strategy has to go deeper than 'how' you're going to establish your improved integrations and start answering some of the WHY questions and address the genuine business value you're working to create.
This is useful because it gives everyone something to get on board with and paints a picture of how business will improve over time, due to a better approach to integration. It also provides you with an opportunity to articulate the value of integration to other parts of the business, who might other wise just see it as a technology thing, that doesn't affect them.
Why have an integration strategy?
Service and system integration is ultimately about improving the way in which customer value is created and delivered. It speeds up sales, better informs marketing, reduces cost per customer acquisition, increases collaboration across teams and creates more time.
When you create a documented integration strategy that acknowledges strengths and weakness across the business, then demonstrate how investing in the software connections between teams will help double-down strengths and plug the gaps in weaknesses… it quickly becomes something of strategic value to everyone.
Read more: How to create integration strategy that REALLY works?
Who benefits most and why?
Ultimately, the people who benefit most are your customers. Putting this idea and the forefront of a strategy is the golden rule for getting the wider business on board. Sales want to bring in more new customers, marketing want to demonstrate how happy existing customers are, customer service wants to provide the best possible support it can and finance want the customers to pay on time!
It all comes down to what each team and department want to create, from within their own invested interest in the customer. With all this in mind, your integration strategy should consider, which teams and people are likely to benefit most from the improvements you want to make. By identifying these people as stakeholders in your strategy, you can create activities to involve them more in the work, gain their support and see through a more successful project of work around integrating your business services.
How to use system integration plan to enable top-level business goals?
At an organisational level, this looks like how the overall journey to becoming a life-long and high value customer can be accelerated, in order grow the business as a whole. Customer experience is huge measure of success in every business and when you look at integration at holistic level, it is actually quite easy to express how it impacts the customer experience.
For example; connecting CRM to Marketing tools can exponentially speed up sales. Or integrating Customer Service software to your ITSM/Developer tools can enable you to deliver new features or fix bugs at a much faster rate. To the internal IT team this might just look like less 'manual work' but to the business it looks like more customers, better experiences and greater growth.
How do you identify and engage key stakeholders?
Look for where the most manually looked after connections are between teams and applications. If people are meeting once a week to share data from Salesforce with the finance team, could this be automated into a real-time exchange through a high-performing integration?
Opportunities like this are everywhere, engaging at a day-to-day level of business is how you find out where the greatest needs and frustrations are. Because of the nature of 'traditional' integration, it is often assumed by the business and IT alike, that any desired improvement will be expensive and slow. So, leading with an approach to stakeholder engagement, which shows readiness and capability around implementing fast and flexible integrations is essential to your success.
Using Integration Automation solutions over traditional iPaaS or API management systems is the vital technology change you need to make, in order to confidently walk into any part of the business and know that any integration challenge presented to you, is possible and affordable.
What are the upfront an on-going costs?
Typically, budgets for integrations are taken up with upfront development and outsourcing costs. They also often consider how much internal staffing cost will be taken up. By moving technical staff away from BAU work.
With modern Integration Automation platforms you only need to calculate your monthly usage, which enables you to take a much lighter approach to budgeting, when documenting your integration strategy.
This is a great benefit to both you and the business heads you might be presenting to. This is because it significantly reduces the frictions around cost (particularly when other teams might be anticipating some form of cross charging, for integrating their team specific tools).
Read more about total costs of integrations: How to calculate costs and measure return on system integration investment
Our way to your integration success
If you would like support in putting together a more strategic approach to integration, or even just finding the language and materials required to make what you want more understandable and useful to the wider business, we'd love to help you. Our expert team of integration specialists have years of experience in seeing through ideas for integrations, through to high-value IT projects.
Let us assess your integration landscape. With our Free and zero-commitment service you will:
Understand and remove the need to do repetitive and tedious tasks

Continuously improve and reuse your current automations and integrations

Better align your IT and business needs

Support your core business in a better way

Clearly communicate your path into the future
Download sample report (no registration needed)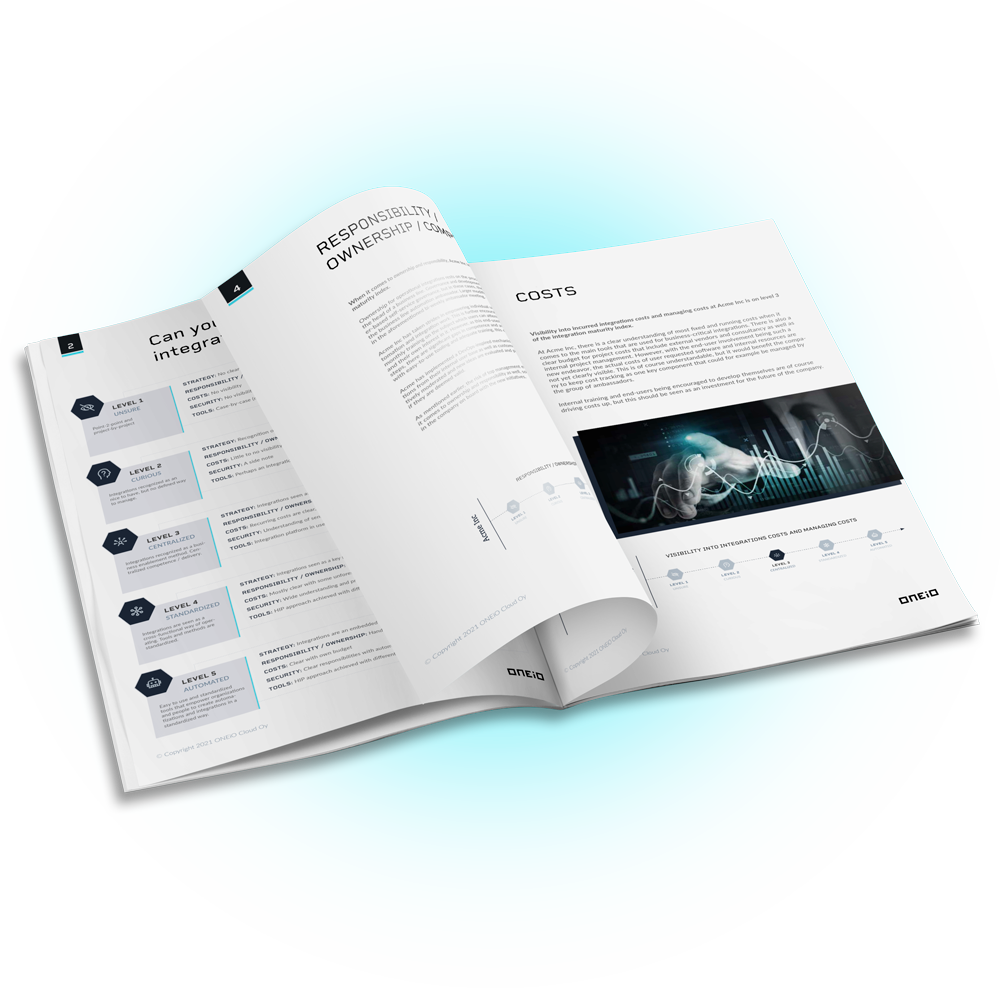 ONEiO is service provider of integrations. It is a cloud-native integration service provider connecting people, processes, and tools – enabling seamless collaboration without traditional integration hassle. Provided as a turn-key solution, as self-service, or something in between. You choose.
Book your integration landscape assessment today!