iPaaS has always been a slow and boring exercise. Not only is the market taken up by incumbent software providers, but it's made even more tiring by the huge amount of project management and outsourcing needed to plan, create and maintain your integrations.
But ONEiO has made a serious move in shaking this up for the better. Your business can now setup new integrations in a single day, which then live in a highly-flexible ecosystem of many-to-many integrations. Innovative and disruptive brands can now leverage integrations and technical capabilities to make them faster and more competitive.
Incumbent iPaaS solutions are far more focused on providing back-of-house IT functions with features and benefits that help manage integrations. However, the Next Generation of iPaaS (also known as Integration Automation Platforms) is a business performance tool. Making every team from sales and marketing, to finance and HR faster, smarter, more collaborative and better connected to the rest of the organisation. This doesn't just mean a more reliable IT department; it means more customers, more revenue and faster growth.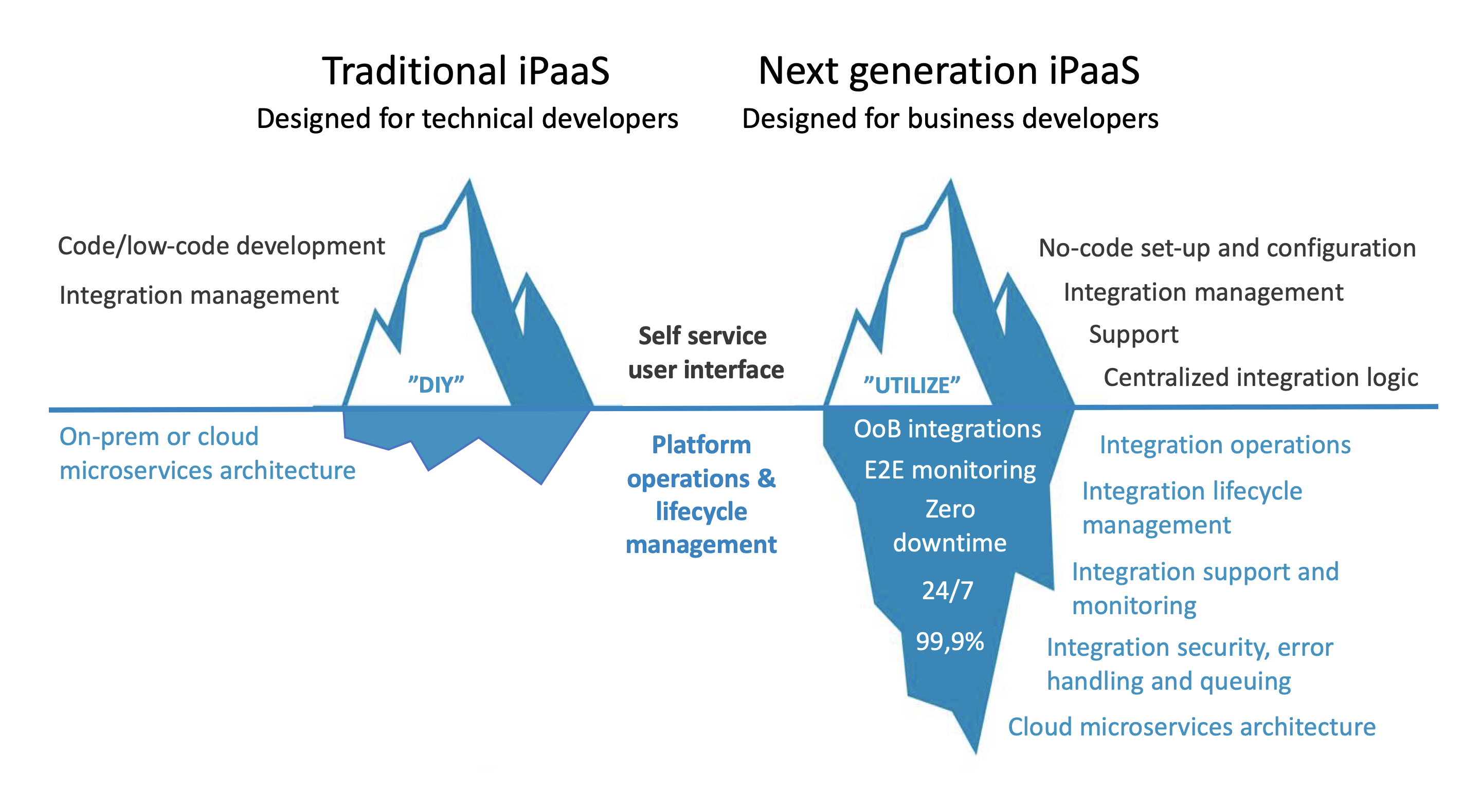 Why should you pay attention to this?
Every business needs to compete. Digital products and services, and the technology that supports them are the greatest asset modern businesses have in the market place. But one of the biggest things slowing down brands are still struggling with integration.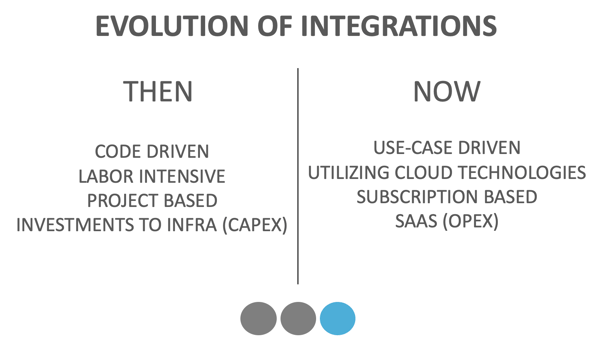 The reason integration is so important is that it literally holds all your tools and processes together. So, when you have invested thousands of dollars into your CRM, Service Management and Developer tools, how those tools now work together to provide a well-connected approach to creating value for your customers is the key to unlocking vast amounts of potential.
How to join the Next Generation integrations?
Getting left behind is a death sentence. Sooner or later, your competitors will make a big leap in their digital maturity and you'll need to race to catch up. The big magic trick to staying ahead of this threat is to be ready to implement new innovations as you want and need to. As you'll know, making new technology play nicely with your existing ecosystem is always something that slows down innovations and new ways of doing things.
Next Generation iPaaS or Integration Automation Platform such as the ONEiO, provide you with a platform to quickly implement, change and test new software, services and processes in a predictable, cost effective and low-risk way.
Engage with your business around how they want to leverage integration
ONEiO goes beyond IT and takes the conversation about integration to every team in the organisation. You can now have effective and engaging conversations with Sales, Marketing, Development, Customer Service, Finance and even Senior Management about how they would like to improve the way they use tools and communicate with other teams.
You can talk about integration with anyone in the business in a highly practical and problem-solving way. Questions such as What information would make your job easier? Or Which teams would you like to work with more closely? … can now all be addressed by providing an easy to join network of tools, processes and teams. It is no longer a conversation about showing people a new way of working and forcing them to change. But instead, finding out what is working well for them and enabling more and more of that.
Many businesses see integration as a technology change, but to make integration genuinely valuable to the business, you need to appreciate the full-width of people and process and tools. How these three things work together inside your ecosystem underpin the success your technical changes will have.
I see this as a three stage process, which I often to refer to as the Three C's of Integration.
1. Connect
The first job is to create the simple connections you need between the products you are using. This used to be a difficult and complex process, but Next-Gen IPaaS solutions such as ONEiO make it quick and easy. This connection is the first and most straight forward task in the integration process.
In a modern IPaaS product, you can use pre-built connectors, so whether you are using ServiceNow, Jira, ZenDesk, TOPDesk or Salesforce… all and any of these tools can be technically integrated in a day. Taking away the headaches of project timelines, planned downtime and so on. Obviously, this keeps the costs down too! However, many businesses see getting this setup as the end of the journey… "Great, we got all out tools hooked up"…and this is where it all goes wrong!
2. Collaborate
So, in comes the next step. We want to understand how our teams work, what makes them specialist at what they do and how the work of other teams supports their success. This is the collaborative nature of integration. The success you get from the technology you've invested in, is highly dependent on HOW people use it. And then more importantly, HOW they use it TOGETHER!
This step requires discussion, listening and sharing. Teams can't afford to fight with each other over who owns which data, who's processes are more mature or when tasks should be handed over. Each person and team should be able to work the way that suits them and use the tools that enable their best work. This is where good management comes into the integration mix, facilitating conversations between teams to help them understand how new integrations are in place to enable everyone equally.
3. Compete
Now you have the tools and team work sorted, you need to apply this in a way that makes the business more competitive. Integration should make data more visible and available across multiple tools and teams. It should also make sharing work easier and offer everyone their own bespoke set of tools to work from, without having to worry about whether other teams are seeing something different in their tools.
For example; if a status of a sale is showing as complete in one system, but as an open lead in another… this can lead to the wrong marketing and communications being sent to a new customer, thus putting that customer at risk of losing trust and confidence in the brand. Understanding how your integrations and processes effect end customers and prospects, then leveraging the benefits of your modern and high-performing integrations, then allows you to optimise each interaction you have with a customer. This, making you a more compelling and competitive brand.
Read more:
Ready to get started?
If you would like to learn more about how ONEiO could support the success of your integrations, get in touch today. Our expert team of integration specialists are eager to hear more about your business and your goals for a more integrated future.