Technological restrictions (like systems not being able to properly communicate with each other) prevent IT service teams from incorporating new best practices into their existing tools and processes. This is one of the problems that enterprise integration aims to solve, in order to improve service delivery and encourage innovation.
In this post, we'll explore two of the integration methods commonly used by both service providers and enterprise companies — Integration Platform as a Service (iPaaS) and Integration as a Service — and highlight the benefits and drawbacks of each.
This article is part of our series on choosing an integration solution. See other articles in the series:
Alternatively, all of these integration methods are covered in our ultimate guide to integration as a service.
Whether you're an IT service provider looking to optimize your integration approach or an enterprise company evaluating your options for integration, this post should provide valuable insights to help you make the best integration decisions for your business.
We'll compare the two solutions across a few key areas:
Time to integration

Integration approach

Ability to align and coordinate stakeholders

Amount of resources required

Scalability

Cost
First up is iPaaS, the once-touted silver bullet of the integration world.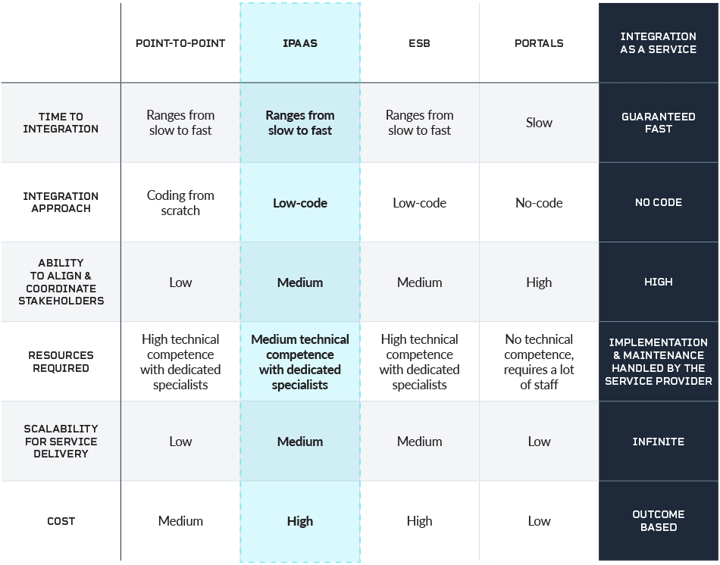 What is iPaaS?
iPaaS, or Integration Platform as a Service, is a cloud-based set of tools that allows you to connect software applications that are deployed in various environments, regardless of whether they are on-premise or in the cloud.
iPaaS emerged around 2011 as a subcategory of the wider PaaS (Platform as a Service) market in response to the growing need for cloud-based integration solutions. Since then, iPaaS has become increasingly popular as more organizations have moved their IT infrastructure to the cloud and sought out ways to simplify and streamline their integration processes.
iPaaS is typically used by large B2B enterprises that require application and data integration, and it was the initial effort to manage hand-coded integrations and APIs on a large scale. Although it remains software-centric, it is now a more service-intensive solution.
An iPaaS typically includes some or all of these components:
Connectors: These are pre-built integrations that connect different applications and services — think Salesforce, ServiceNow, ZenDesk, and Slack.


Visual integration flows: A visual user interface that allows you to build and manage integration workflows and processes across different applications and services.


Data mapping: A feature that maps data between different applications and services, ensuring that data is transformed and properly formatted for use in each system.


Workflow automation: The ability to automate workflows and processes, such as triggering a workflow when a new lead is created in Salesforce or when a new file is uploaded to Google Drive.


Monitoring and management: A dashboard that provides visibility into the health and status of integrations and workflows, as well as the ability to manage and troubleshoot any issues that may arise.
Benefits and limitations of iPaaS
Time to integration
Ranges from slow to fast
Just like almost everything in IT, the answer to the question: "How long does it take for an integration to be up and running using iPaaS?" is… it depends.
Getting an integration up and running on an iPaaS platform can be a super quick job using the user interface and pre-built connectors, then simply making sure the integration runs. So if your business only needs a couple of simple integrations without the outlook to expand your integration ecosystem in the near future, iPaaS could be the perfect solution.
However, what happens the next time you need to set up another integration? Do you copy and paste the previous integration, make changes to it, or start from scratch each time?
While many iPaaS platforms do provide an element of integration automation out of the box to improve integration setup time and workflow, more complex integration scenarios often aren't able to be properly implemented on iPaaS without significant development work.
Integration approach
Low-code
The main drawcard of many iPaaS vendors is the low-code or no-code approach, coupled with (usually) intuitive user interfaces that make building and running integrations simple.
No-code iPaaS platforms
Very few iPaaS platforms are truly no-code. True no-code iPaaS vendors like Zapier, Integrately and Make cater to simple integration needs, run by the citizen integrator. This can be a fantastic solution if your small to medium-sized business doesn't require the integration of complex business systems or end-to-end service integration.
Issues arise, however, when a business runs into the following challenges:
Their integration use case is not covered by the out-of-the-box templates the vendor offers.

Their technical personnel aren't skilled or don't have the resources available to build on top of the chosen iPaaS platform.
Low-code iPaaS platforms
Low-code integration iPaaS vendors, on the other hand, don't shy away from the fact that to get the most out of their products, customers need dedicated, technical resources internally to build, manage and maintain the integrations.
In fact, with sufficient resources, you can build and maintain even complex business integrations that scale with your business.
Ability to align and coordinate stakeholders
Medium
Typically, the enterprise's decision to purchase an iPaaS is a strategic, C-level decision. And like many other top-down product implementations, this can lead to some departments' integration needs being overlooked or underestimated.
Of course, iPaaS vendors are adding more and more use cases to their templates or recipes to provide a one-platform-suits-all solution, but there's still room for improvement.
Another aspect of iPaaS that businesses must consider is the ability to integrate with external stakeholders. The iPaaS model is traditionally internally focused, without the capabilities to establish reliable and repeatable integration with vendors and service providers.
If the extent of your company's integration needs end within the boundaries of your company's internal ecosystem, iPaaS may be the correct choice.
Amount of resources required
Medium technical competence with dedicated specialists
As mentioned above, if your business has even one remotely complex integration use case, or you need to create a custom integration on an iPaaS, you'll need to build the capability in-house and dedicate specialists to the production and maintenance of the integrations.
For companies with large IT departments, or service providers who are able to factor the cost of dedicated specialists into their service costs, this could be just fine — but not optimal.
Even when using a no-code solution, there's still a need for a dedicated product owner with an understanding of how code, APIs, and integrations work under the hood.
Scalability for service delivery
Medium
Again, the magic words: it depends. If the nature of the service being provided is simple, for example, integrating a help desk system with an email platform, scalability is both possible and effective with an iPaaS solution.
However, consider a scenario where an enterprise wants to implement a complex IT service that involves multiple service providers. In other words, they want to integrate their own ITSM tool with their cloud provider, network provider, security provider, and application provider.
At first, they'd try to build integrations using a traditional iPaaS approach (the same one used for the simple help desk to email integration). They'd then quickly realize that this approach is not scalable, as each service provider uses different APIs, integration methods, and data formats. This makes it challenging to integrate all the services into a holistic solution.
Cost
High
While the starting per-month subscription price of many iPaaS tools may not make business decision-makers blink, the true cost of running an iPaaS can be much higher, namely because of:
The pricing structure variations between iPaaS vendors — some are a fixed monthly fee, and others are priced per message, or per integration. This can create confusion and a great deal of variability in the cost month-to-month.
The cost of internal resources to build and maintain integrations — as we mentioned earlier, the cost of technical personnel for the initial setup and maintenance can add up — even when using an iPaaS platform.
The cost of switching platforms — if your needs outgrow your choice of iPaaS platform, moving your integrations is often not possible, or not financially reasonable to do. This means companies often stay with iPaaS vendors who don't suit their needs or can't scale effectively with their business.
Next up, let's shift the microscope to integration as a service and the Integration Service Providers who make it happen.
What is integration as a service?
The average enterprise uses hundreds of SaaS products and cloud services every day, and as that number continues to grow, so does the need to ensure effective information flow and communication between them. It's where the initial need for integration came from, and it's only becoming more complex as businesses and markets mature.
Enter: integration as a service
Integration as a service is a service delivery model where customers—typically large enterprises or IT services companies—outsource some or all of their integration needs to a service provider (an Integration Service Provider). Integration Service Providers generally offer detailed integration design and implementation services that link application functionality and/or data with each other and incorporate this into the company's existing IT ecosystem.

The integration as a service model allows businesses to outsource their entire integration operation, from planning to delivery to maintenance, as well as many of the associated risks. This means that businesses no longer need to develop and maintain their own integrations and can focus on their core business.
Benefits and limitations of integration as a service
Time to integration
Fast
Integration service providers often promise fast time to integration, and for good reason – it's one of the core outcomes of the service they're providing. That being said, if your integration needs are in the realm of simple tool integration/automation, it may be just as fast (or faster) to get started with an iPaaS tool.
For integration service providers, the time to integration depends on a few factors:
The technology the provider uses to deliver the service (their own proprietary technology, an iPaaS platform, or something else)

The provider's approach to their own service delivery (how quickly they are able to begin, deliver and repeat new customer projects)
Integration approach
No need to code
Because all of the technical aspects of integration are handled by the integration service provider, there's no need to have technical integration expertise in-house. Provided that the use cases and information needed to flow between systems are clearly defined, the customer generally doesn't even need to interact with the technical side of the integrations.
Ability to align and coordinate stakeholders
High
Part of the service delivered by integration service providers is learning about the needs of different stakeholders and departments within the business and also understanding the nature of the ecosystem of vendors, suppliers, and contractors that need to be factored into an organization's integration setup.
As integration experts, integration service providers are equipped with knowledge of even the most complex integration use cases, and can generally align and coordinate stakeholders with ease.
Amount of resources required
Very few internal resources, no technical competence needed
Outsourcing is synonymous with IT service management — whether it be an enterprise outsourcing some or all of its IT function, or a service provider outsourcing the non-core elements of their service to a specialized provider.
When working with an integration service provider, businesses often only need to have one continuous point of contact to manage the collaboration.
Scalability
Full scalability
Because integration service providers' core business is to provide future-proof, high-quality integrations for their customers, it's in their best interest to make sure their service is able to grow and scale with their customers.
Cost
Medium
Now, while we've classed this one as Medium, many integration-as-a-service customers will realize the return on investment much faster than using an alternative integration method.
Currently, integration solutions typically come in packaged deals where pricing is generally influenced by:
time to implementation

staffing considerations

the scope of the integration functionality

tool and platform choice

maintenance costs
The integration as a service model aims to bring a solution to market for a subscription fee, rather than a one-off cost. In practice, you're purchasing the outcome, not the technology.
Granted, some integration service providers utilize their own (or others) technology to reach those outcomes, but it's more so the way the outcome is done, rather than being the product.
Why choose integration as a service?
The integration as a service model serves both enterprises with a sufficient need to integrate multiple services and IT service providers who recognize the difficulty in rolling out and scaling integration solutions to their client's systems. In essence, you're buying the outcome this time — instead of just the technology. Of course, most integration service providers use some type of integration technology (proprietary or otherwise) to get the job done, but customers are buying the end result.

These enterprises tend to be more mature businesses with many moving parts, multiple operating locations, and deeply-rooted legacy systems. Also, IT service providers with sophisticated ITSM practices often require a systematic method of delivering integrations to their clients—this use case in particular fits the integration as a service model.
The final verdict: iPaaS vs. Integration as a service
We'll say it a final time: it depends.
But our parting statement is this: if your integration needs are mostly internal (and you have a dedicated IT service team with plenty of resources) with common use cases and technologies, iPaaS is likely a good solution for your business now and into the future.
For organizations who work with external suppliers, vendors or customers, have more complex integration needs and use cases, the most economical and future-proof option is to outsource all of the headaches connected to integration implementation projects to the experts: integration service providers.
Further reading: The Ultimate Guide to Integration as a Service
For an in-depth look into integration as a service, check out our latest guide: The ultimate guide to Integration as a Service. Learn about the most significant challenges faced when integrating services, current integration solutions, and the integration as a service model as a new way forward.
Download it here.