Let's say you're running ServiceNow in your organization and have been given the challenge of creating a functional connection between ServiceNow and a number of smaller applications. You've done some Googling and looked at a few pieces of ServiceNow documentation, and you've come across eBonding as possible solution.
Alternatively, perhaps you have a Managed Service Provider who is eager to connect up your respective Service Desk/ITSM tools. And eBonding has been put forward as the integration solution for making your two tools talk to each other.
Either way, this method of customer integration is on the cards. However, you can see it might have limitations and you are trying to work out what can be done to mitigate the various weaknesses. Then ultimately ensure that the future of your software and service ecosystem is running into any major risks.
Just to get ahead of the issue. eBonding is actually a pretty tired solution, but it is still leaned upon a lot in order to get a wide range of specific integrations up and running. Most businesses we see move forward with eBonding often end up in a place where they can't mature or grow those integrations in a way that suits the goals of the business. And within a year or so, the eBonded integration becomes more of a hindrance than a help. But don't worry there are easy ways round this!
 
Photographer: Maxim Melnikov
What is eBonding?
Like many vendor integration solutions, eBonding allows you to pass data between two pieces of software. It's a particularly popular solution for ServiceNow users, where by you create a bi-directional integration between ServiceNow and another application.
You can often see this used in MSP or multiple ITSM tools environments, where you might have two or more teams collaborating over service requests. And you need to ensure the data they are all working from is consistent across all systems and teams.
Success story: AHEAD needed a solution that would seamlessly integrate not just ServiceNow and the end-customer, but also their monitoring solution, LogicMonitor.
Read the full AHEAD case story
The main benefit of an eBonded solution is that they typically provide you with a 'synchronised' exchange. This means that data is shared automatically, and you'll always have 'matching' data in both systems (in theory).
Why you would be considering eBonding as a solution
I often see eBonding as an MSP-led solution. They have their own version of ServiceNow or Remedy and they don't want to have any manual processes for managing single service requests/tickets across your service desk and theirs.
Because eBonding can usually be setup within ServiceNow's own eBonding/integration tooling and doesn't require much manual coding, it's quite an attractive solution for the MSP. And for the end customer, it cuts out any debate or negotiation around changing or sharing service desk software, which is a big issue for many early stage MSP/customer relationships.
But eBonding is not scalable and it is not mature enough for most of the service provider and vendor integration needs you're going to be coming up against in the future.

Photographer: Tanner Larson
Why you should not do it.
Modern businesses need to move, change and adapt quickly. The most competitive brands I have worked with, all place their agility around technology and software at the forefront of their IT strategies. And what I am now increasingly seeing, is that IT leaders see integration as one of the biggest enablers of this kind of agility.
This is because the ecosystem of software and services you have in your business, is now far more important than any one piece of software. The way those different software packages work together is defined by the quality and performance of your integrations. So, investing in modern and high-performing integration is front of mind for these leading businesses.
eBonding can't meet these needs because it is bi-directional. Connecting up one ITSM tool to another may sound great on paper. But strategically it's a disaster, as you will need to create further layers of integration solutions on top of that bond whenever you want to introduce new applications to the integration ecosystem.
For example, if you you're managing an integration between ServiceNow and Remedy with an eBonded connection, but then you want to introduce Zendesk, Jira and Salesforce to this network, you need to create brand new integrations across each and every platform. It might sound like just a necessary step in growing out your integrations. However, there are very straight forward alternative methods you can use, which negate the need for eBonding altogether.

Photographer: Vladimir Fedotov
How easy is the alternative?
Super easy! We call them Next Generation iPaaS solutions, and here at ONEiO we strongly believe that we can provide the very best of these solutions. You might have already looked at popular iPaaS tools such as Dell Boomi or Mulesoft, however these are not quite the tools you need right now.
To mature past the limitations of eBonding, you need something faster, lighter and much more scalable than a traditional iPaaS tool. You can use solutions such as ONEiO to quickly create many-to-many integrations between an unlimited number of software and services. This is a BIG step beyond a bi-directional integration within eBonding, as you are effectively putting a centralized integration hub at the centre of your business, then invite any piece of software to join.
No one piece of software is seen as more or less important than another. And no data is ever lost, duplicated or inconsistent. The synchronizing nature of eBonding is significantly over taken by real-time data sharing, across an uncapped number of applications which is all managed by a centralized hub.
On top of this, it's cheaper and a better value for the money too (starting from 99$/month). ONEiO is 100% subscription based and has zero setup fees or ongoing costs. You also only ever pay for what you use, meaning that you can manage and reduce your overall integration costs like never before.
Managed service provider? Learn more here: A guide for customer integrations for MSPs.
How do you get started?
Shifting over to this way of working couldn't be easier. You don't even need to disrupt existing integrations in order to set up new ones.
If you were to use a solution such as ONEiO, you can actually take advantage of a wide range of pre-built integrations, which means you can get most connections up and running in less than a day.
For example, almost all ServiceNow to ServiceNow integrations can be setup and working in a few hours; with no downtime, coding or testing required at all.
Learn more: Differences between ONEiO and ServiceNow integration hub?
If you would like to learn more about ONEiO, Next Generation iPaaS or alternatives to eBonding, you can get in touch with our expert team of integration specialists today.
Interested in learning more about eBonding?
Our eBook "A Quick Guide to eBonding in 2020" will provide you further insight to the topic of eBonding and discuss how it is evolving today.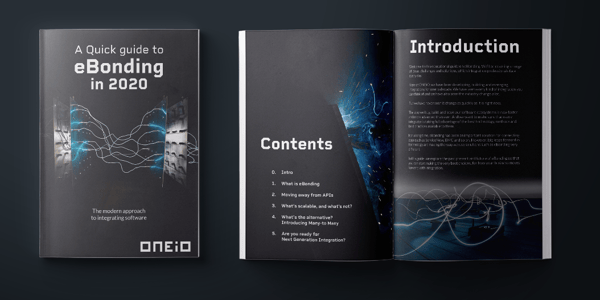 Additionally...
Our eBook "The IT Leaders Handbook for Managing Multiple Service Providers" takes a further in depth look at the topics mentioned here. Request your copy today!