We get a lot of questions specially from ServiceNow users what's the difference between ServiceNow integration hub and ONEiO iPaaS?
Simple answer is that ServiceNow integration hub is pretty good API management tool and is works very well with simple internal use cases and systems you have full control like Active Directory, Dropbox, Slack etc. Since many service management workflows involve multiple parties with pre-defined interfaces, processes and tools you need a lot of adaption which means that trying to manage all that only on the "one-side" of the integration makes it really, really complex and expensive to build and manage (if you build it, you have to manage and maintain it).
And that's where ONEiO iPaaS makes difference. As you can see, ONEiO is not competing with ServiceNow integration hub, it's a different thing. And at the end of the day, ONEiO enables even more value for SNC users that's why we have many happy ServiceNow users as customers. Read more about ServiceNow integrations with ONEiO.
Differences between ONEiO and ServiceNow integration hub in a nutshell:
1. High availability, end-to-end
ServiceNow is not a zero downtime product. In case they have maintenance break, your integrations are down. Of course you can build queue at the ServiceNow side, but the other endpoint cannot typically handle such downtime. Your integration flows will break, you will lose tickets and most likely screw up your SLA calculations and finally the customer experience.
ONEiO integrations are not point-to-point and all endpoints are isolated. ONEiO is provided as continuous delivery model and zero downtime.
2. Not all the eggs in the same basked
If you decide to say goodbye to ServiceNow, you will have to say goodbye to your integrations as well.
ONEiO is technology agnostic and vendor neutral solution. Centralized and global integration logic works with any endpoint. This also means, no application specific skills are required.
3. Predictable pricing
ServiceNow integration hub pricing is transaction based. Pricing works well and is in your control with integrations where push functionality is possible and you have full control over both endpoints. Unfortunately many systems do not support push functionality too well if at all. In practise this means lot of transactions and increasing costs.
ONEiO provides flat-rate pricing without any process or transaction limitations. With ONEiO you'll need less budget for costly application or platform licences. For you and your customers / partners.
Download our total cost of ownership calculator (spreadsheet) to compare costs and benefits of subscription based integrations vs. traditional integrations.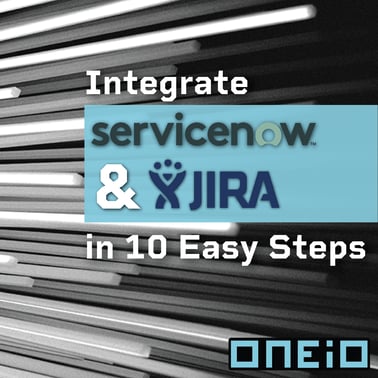 Step-by-step guide for ServiceNow and Jira integration in 45 minutes.
How to configure ServiceNow and Jira into connection using ONEiO - next generation iPaaS. Read more!
Read more about easy ServiceNow integrations
ServiceNow integrations with ONEiO
Ultimate guide to application integration
Is eBonding a scalable solution? No, definitely not. Here's why?