Juha Berghall, CEO of ONEiO takes 5 minutes out of his busy day to chat to us about software, market trends and the future of work.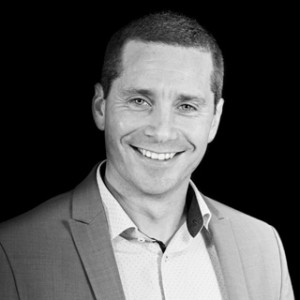 Q: Hi Juha, thanks for joining us for another edition of Unplugged! What have you been working on recently?
Juha: Well, 2018 has been a huge year for us. We launched the new ONEiO brand, secured over a million euros in funding and most importantly, we've worked on some fantastic client projects. We have also been growing the team like wildfire. We have welcomed some fantastic new people into the company, including some very talented developers and marketing staff. We have seen such great growth and maturity in the software industry over the last year or so, and we have been really feeling the effects of that in our business too. I am very pleased of what my team have been able to achieve this year.
Q: That's brilliant! So, you mentioned some exciting client projects. Can you share anything you have been working on?
Juha: Sure, one of the most challenging but rewarding projects this year was with Adidas in Germany. Along with one of our partners, we implemented a really high performing set of service integrations, which extended way outside of just ITSM. We have been able to create some really well automated and seamless connections between a wide range of people and teams, who are using tools such as Salesforce and Jira. They have quite a sophisticated way of working and obviously a very large client base, so the process and people side of the project has been just as (if not even more) interesting to work on as the software side.
Q: Did they give you any free shoes?
Juha: Ha! Maybe… ;-)
Q: Is Salesforce something you are now working with a lot then?
Juha: Absolutely. For many years we have been purely focused on ITSM tools, but in recent years, we have seen a need for our technology and approach across pretty much every sector of the software market. The world is increasingly running on software integrations and the complexity of modern business requires a smarter way of doing it. Salesforce is one of the leading CRM tools, but we have now worked with a broad range of CRM, Marketing, Finance and HR toolsets, to develop and implement not just integrations, but ecosystems of software.
Q: What do you mean by 'Ecosystem'?
Juha: This is where the market is heading. We don't just buy software off the shelf with a credit card anymore. That was a very important part of how SaaS grew to become one of the greatest enablers in the software industry. However, modern and fast-growing businesses now need more reliable and scalable ways of managing software. This happens by treating people, process, technology and partners as an ecosystem. An ecosystem where data, information, requests, services and value can flow from one area to a next in a highly visible and simplistic way. This might sound like a very obvious suggestion. However; a majority of businesses don't work in this way. They treat every element – especially suppliers – like silos, only passing on information when it's asked for. They fight over how things should be designed, configured, formatted, measured, improved… and the list goes on. Integrated Ecosystems are the answer. Where everyone gets to work in their own specialist ways, but all the data and processes can be easily centralised and distributed across the business in real-time. This is what we have been able to achieve with some pretty big companies in the past few years and the rewards for working this way are really amazing.
Q: Wow, this is quite a leap forward for the industry. What would your advice be to business leaders today, who want to work this way?
Juha: Just start. There is no value in waiting to see what your competitors do or what the next annual industry reports says. No matter how mature your approach to software is, improving what you do is always vitally important to success. So, step back from your day-to-day work and see where the blockers are. It might be in a supplier where you don't have enough visibility of what they are working on. It might be in your development team, where it takes too long to feedback business needs into their product life-cycles. Or, it might be the way service desk tickets are shared with other teams such as facilities and HR. Look for opportunities to improve and begin building an integration ecosystem around it.
Thank you Juha for these great insights. It sounds like you have been working on some very exciting projects and pushed forward some fantastic innovations in our industry!
To find out more about ONEiO and how it can help you improve the way you manage integrations, just get in touch with our expert team.