An integration service provider based in Helsinki, Finland, ONEiO has been selected to join a TM Forum Catalyst project together with Accenture, Ericsson, Telia, ServiceNow, AT&T and TIM. ONEiO's pioneering service was chosen to act as the software that the Catalyst group will use to help Communications Service Providers (CSP) and large multinationals simplify collaboration by enabling a shared architecture.
TM Forum is a global alliance of close to 900 telecommunications and tech companies, actively working together for industry-defining change that unlocks growth, long-term value and winning conditions for all participants. Catalysts generate proof-of-concept ideas that solve common industry challenges, validated by communications service providers and industry stakeholders.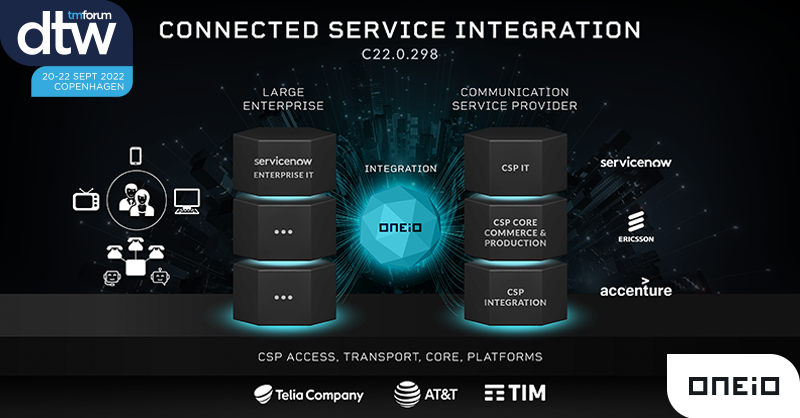 ONEiO provides an enterprise-grade, cloud-native integration solution for enterprises and IT service providers, removing traditional integration challenges, technology boundaries and manual work through automation, AI and robotics. The solution enables seamless collaboration between teams regardless of organizational boundaries or tools each party is using.
"With more external services offered than ever, companies are struggling to integrate them into their operations in a seamless way. Our solution will enable CSPs to focus on serving their customers without worrying about how to work around integration worries, allowing CSPs to focus on their core business. We are proud to present our industry-leading solution with this group at the Digital Transformation World next week," says Juha Berghäll, the CEO and Co-Founder of ONEiO.
"The Catalyst group ONEiO is part of will demonstrate how CSPs and their customers can use a shared architecture to simplify business relations. ONEiO's integration solution was specifically chosen to be part of this group to help us kick off our project with a tight schedule – and with the utmost ease," tells Tommi Häkkinen, Managing Director in Technology Services at Accenture Finland.
All Catalysts deliver projects and solutions that leverage key TM Forum best practices and standards to ensure scalability, reuse across multiple applications, and reduce costs and risk. All the Catalyst groups will present their solutions at Digital Transformation World 2022.
ONEiO's clients include industry-leading Service Providers such as CGI, CDW, Bechtle, Cancom, Atos, Tietoevry as well as enterprises, such as Bayer, Volkswagen and Schindler.
ONEiO at TM Forum DTW
At the event ONEiO is presenting how TM Forum Open APIs are utilised so that CSPs can create a connected service architecture allowing enterprises to more easily complete processes such as product ordering and service assurance (Incident, Problem, Change). You can find ONEiO's team their booth (number 25) at Innovation Lab in the Quad with all the other Catalyst projects: https://dtw.tmforum.org/quad/
For more information
Juha Berghäll
CEO and Co-founder, ONEiO Cloud Oy
juha.berghall@oneio.cloud
+358 40 589 5121
About ONEiO
ONEiO Cloud is a cloud-native integration service provider connecting people, processes, and tools – enabling seamless collaboration without traditional integration hassle. Provided as a turn-key solution, as self-service, or something in between.
Founded in 2011 in Helsinki, Finland, and now with offices in Germany, the United Kingdom and the United States, ONEiO's approach to solving traditional integration delivery and production challenges with their vendor-neutral integration solution has seen rapid demand among European and North American enterprises as well as Managed Services Providers.