In an ever-changing IT landscape, it's common for organizations to employ an IT multisourcing strategy to benefit from best-of-breed technologies and suppliers. But piecing together an IT services catalog from disparate vendors requires a solid methodology for vendor management and service integration.

By Gartner's definition, vendor management involves implementing measures that facilitate the development, administration, and regulation of vendor contracts, relationships, and performance to ensure prompt delivery of purchased products and services.

This strategy assists organizations in achieving business goals, reducing the likelihood of operational interruptions, preventing mishaps in deal and delivery, and promoting sustainable multisourcing, all while optimizing the value derived from vendor partnerships.
Simply put, multi-vendor management is the same discipline applied across multiple vendor relationships.

This piece (based on our in-depth guide) aims to show that the most effective approach for organizations seeking to optimize the management of their multi-vendor IT infrastructure is to use an integration method that is scalable, repeatable, and turnkey.

1 IT multisourcing then and now
When Eastman Kodak signed its landmark IT outsourcing deal with IBM, DEC, and Business Land in 1989, the IT outsourcing industry exploded—reaching a valuation of 40 billion USD by 1995. Many followed in the footsteps of the photography giant, in a wave of IT outsourcing later dubbed "the Kodak-effect."

In the Kodak deal, IBM was handed significant control over Kodak's data centers, Business Land provided personal computer support, and DEC took over telecommunications support. By outsourcing to multiple vendors, Kodak could draw from each vendor's strengths whilst maintaining focus on its core business.

Though it wasn't realized at the time, Kodak had pioneered a basic version of the direct model for IT multisourcing:

This approach wasn't initially lauded as some stroke of strategic genius, but as a way for companies to reduce costs in the face of financial distress.

Robert Plant, a professor of computer information systems at the University of Miami, describes the view held at the time: "IT was viewed as noncore, a cost to be outsourced like janitorial services." Unfortunately for Kodak, the outsourcing of IT services led to "layoffs of key personnel, loss of organizational memory, and a loss of IT connectivity within the firm."
Plant speculates that Kodak's decision to treat its internal IT organization like a "cost center" may have been an indication of its eventual demise. The expulsion of technological expertise was motivated by a rigid, bureaucratic culture that refused to invest in and understand emerging digital technologies.
This poor state of inner health made it difficult for Kodak to recover from the trauma of being left behind by rapid innovations in the technology market.


1.1 Modern IT multisourcing
IT multi-sourcing has moved on quite a bit since 1989. Even those most resistant to change know how crucial modern technology is in attaining business goals. The ubiquity of internet-accessible, best-of-breed tools and services means that companies that aren't outsourcing can't be competitive.
In "Cooperation, coordination, and governance in multisourcing", Bapna et al. (2010) describe multisourcing as "the practice of stitching together best-of-breed IT services from multiple, geographically dispersed service providers." They go on to champion IT multisourcing as the "leading edge of modern organizational forms."

Buying into specialist services, built on best practices, significantly reduces the risk of being left behind by rapid technological advances. Many IT multisourcing success stories (like that of Coca-Cola) illustrate just how diversifying IT vendors can benefit organizations, such as:
Allowing them to benefit from best-of-breed solutions


Improving their vendor bargaining position


Increasing their IT agility


Letting them focus on core business activities


Minimizing the stability risks of a monolithic vendor and the potential for vendor lock-in
However, when organizations don't manage multiple IT vendors successfully, they risk losing the ability to orchestrate the IT services they rely on.
Picture a conductor trying to direct an ever-expanding orchestra. Every time a new player enters the symphony, it's the job of the conductor to make sure they play in harmony. Now imagine the conductor trying this without the sheet music—this is what it's like trying to manage vendors without a clear overview of what they are supposed to be doing.

1.2 Bad management practices lead to poor orchestration
Before developing effective multi-vendor management practices, organizations should consider the industry-recognized best practices for managing single vendors. In its quest to align IT services with business aims, the Information Technology Infrastructure Library (ITIL) framework suggests best practices for vendor management:
Having a structured and documented approach to vendor selection.


Creating clear and concise contracts that outline specific deliverables and terms and conditions.


Establishing metrics for tracking vendor performance against the agreed outcomes outlined in service level agreements (SLAs).


Creating a straightforward conflict resolution process for both parties to follow.


Setting up regular communication channels with vendors to align teams and maintain positive organizational relationships.
ITIL best practices help facilitate service orchestration by ensuring that vendors are aligned with the organization's goals and objectives and that the IT leader within the organization (the conductor) knows what each player is supposed to be doing.
However, when it comes to improving multi-vendor management capabilities, best practices in establishing vendor relationships are only the start. This guide explores a new way for organizations to manage multiple IT vendors through scalable, centralized, and transparent service integrations.

2 Why integrations are essential in multi-vendor management
To understand why service integrations are essential, it's important to know what they are, how they are implemented, and why they are needed in the first place.
2.1 What is service integration and why is it important
Service integration involves connecting different software, hardware, and network systems, and creating common protocols and processes between teams to bring them together under one centralized management.
Service integrations improve service efficiency, increase transparency over the service delivery pipeline, and reduce costs. At their best, service integrations can also automate repetitive tasks, eliminate data entry errors, and enable real-time data sharing, among other benefits.

From a vendor-management perspective, service integration facilitates better communication between clients and vendors, streamlining the flow of information and ensuring that all parties are on the same page.

The use cases for service integration are too numerous to list, but they are commonly implemented when a business needs to boost its IT capabilities and expand the number of high-quality services it can offer to stakeholders and clients.
Common scenarios for service integration include:
When an organization has multiple IT systems or applications that don't communicate effectively, causing inefficiencies, data inconsistencies, and the dreaded "Swivel-Chair" effect.


When an organization wants to streamline operations by automating workflows or eliminating manual processes.


When a growing organization must integrate new IT services or solutions into its existing infrastructure.


When a company

merger happens, IT systems and applications are integrated

to achieve synergy and improve efficiency.


When an organization wants to improve the user experience by providing a single, unified interface for accessing multiple IT services.
2.2 How service integrations are typically implemented
To better understand how service integrations are implemented, it's important to first consider the organizational structure and best practices commonly followed.
Whilst the ITIL framework for IT service management (ITSM) is useful, it falls short in providing best practices for ITSM in an IT multisourcing model. That's where the Service Integration and Management (SIAM) methodology comes in. The SIAM model expands on the ITIL framework and guides organizations in creating a unified IT organization when multiple services are outsourced.


In this guide, we've focused on SIAM, though it's often referred to in tandem with Multisource Services Integration (MSI) as

SIAM/MSI

.

Written in a similar language, the SIAM management methodology expands on the usefulness of the ITIL framework to guide organizations in the creation of a unified IT organization when multiple services are outsourced.

Organizational layers in the SIAM model:




Adopting SIAM requires the development of a dedicated integrations team—the "service integrator" layer in the diagram above. Where this SIAM function, department, or team sits within an organization is determined by the chosen organizational structure (explored later in this guide).
The model below illustrates the function of the service integrator. They act as a magnifying glass, focusing the service delivery from dispersed providers to the retained IT organization, ensuring that services reach the appropriate business units.
This is done by linking teams through the various systems and processes they use.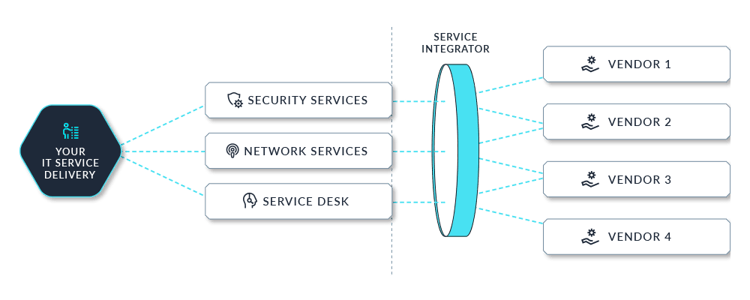 | | |
| --- | --- |
| | With an integrations service provider like ONEiO, full visibility over the ITSM ecosystem and service orchestration capabilities are kept with the retained IT organization. |
2.3 The tools of the service integrator
When it comes to the technical aspect of connecting IT systems across user groups there are various methods, including point-to-point integrations, integration platforms, and API-based integrations. Comparisons of these methods are covered later in this guide but can also be found on the ONEiO blog:

3 How organizational structures affect vendor-management processes
In "A Capability Framework for IT Service Integration and Management (SIAM) in Multi-Sourcing" (Goldberg et al. 2015), it's highlighted that SIAM must address these four overarching issues affecting multi-vendor management:
Aligning scope and specifications across provider contracts:



Contracts and service levels are often unaligned and fragmented

Service levels need to be consistent across contracts

Scope misalignment introduces a potential for conflicts

Parties often fail to define contracts well





Managing relationships and collaboration with and between providers:



Providers delivering interdependent services need to collaborate

Outsourcing is a competitive business and can lead to hold-ups, tensions, or withholding of information

Differences in geography, language, standards, and legal norms can exacerbate collaboration issues





Defining standardization and modularization:



Service components need to be appropriately standardized and modularized for integration

Interactions between services must be controlled to enable effective coordination

Providers increasingly shift responsibility to the client to integrate proprietary offerings





Measuring services end-to-end:



Difficulty in measuring each provider's contribution to multi-sourcing services
Lack of observability and verification makes defining concepts for measuring difficult
Inappropriate measure points hinder incident identification and resolution
Finger-pointing is a common issue in multi-sourcing

These four key issues affect vendor-management processes differently depending on where the "service integrator" function sits within the organizational structure.
3.1 Internal service integrator
When an organization chooses to act as its own service integrator, it takes on the responsibility of coordinating and technically implementing service integrations to its multiple vendors.

Even though this approach can offer a high degree of control over the process, it requires significant and expensive internal resources and expertise for managing relationships with vendors, ensuring that service levels are met, and addressing any issues that arise promptly.
If the retained IT organization then wants to eliminate manual workflows by implementing system integrations, these must be built and maintained internally.
3.2 Lead supplier as service integrator
In this model, an existing IT supplier is tasked with integration projects and coordination on top of their original outsourcing deal. The integration itself might involve another third-party integration partner.

This approach is attractive to organizations looking to limit the number of vendors it relies on, even though it increases the risk of vendor lock-in. A major downside is the potential for conflicts of interest to create a lack of transparency in the delivery of services. Low transparency decreases the ability to measure end-to-end performance and ultimately reduces the ability of the retained IT function to orchestrate services.

It's also imperative that the lead supplier has the necessary expertise and resources to effectively manage the coordination of multiple vendors, which is often not the case with vendors who don't specialize in service integrations (which ultimately defeats the purpose of multi-sourcing in the first place).



3.3 Hybrid service integrator
When responsibilities are shared between the business doing the outsourcing and one of its suppliers, it can offer a balance between control and convenience.

However, this approach suffers the same pitfalls as having a lead supplier take on the service integrator role. It's essential to ensure that there is clarity around the roles and responsibilities of each party to avoid misunderstandings and service delays.

This approach also requires significant coordination and communication across the ITSM ecosystem to ensure that services are delivered effectively.
3.4 External service integrator
In this model, a third-party company is brought in to implement and coordinate service integrations.

This approach offers a high degree of expertise and resources to manage the coordination of multiple vendors. It also means that the organization can focus on core business activities and the orchestration of vendor-provided services, rather than spending time chasing an integrations backlog.

Specialized, best-of-breed third-party integrators should have the necessary expertise and experience to effectively manage the coordination of multiple vendors, or to provide the retained IT organization with the means to do this without having to train specialized staff.

This approach ultimately provides the fastest time-to-completion and the most reliable and repeatable results.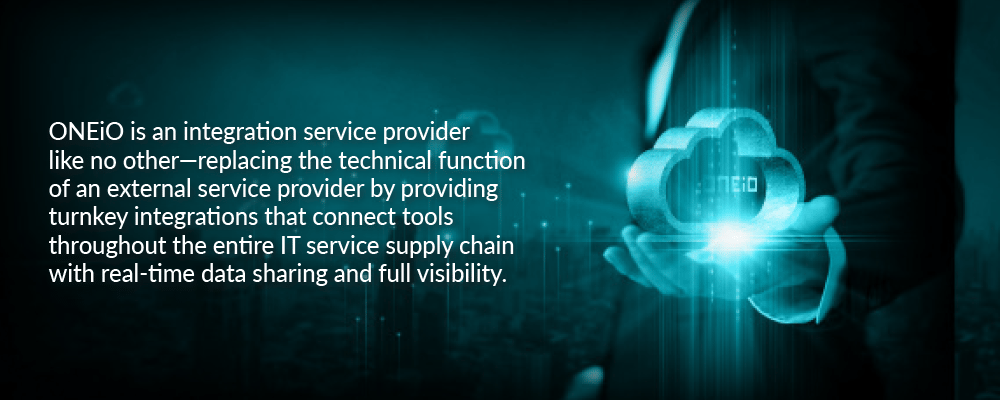 4 Challenges when integrating multiple vendors and systems
Integrating multiple vendors and systems is a challenging process both technically and managerially—requiring the coordination of multiple parties, applications, and an intimate understanding of the IT service management ecosystem.
The following areas present myriad problems for organizations integrating multiple vendors and systems:
Data quality and consistency: Moving data between multiple sources will result in issues with data quality and consistency if processes aren't adequately addressed before the integration. Data entry errors, duplication, and transparency issues significantly impact business processes and clog up teams with investigations when things go wrong.
System compatibility: Different systems often use different technologies or protocols, which, from a technical perspective, make integrations a challenging project for IT teams. Compatibility issues not only cause delays in the integration project but, in the worst-case scenarios, result in the abandonment of the project altogether.
Security: A hot-button topic in the age of data security and compliance regulations, integrating services creates security risks that must be addressed during the integration project. In multi-vendor IT infrastructures, data breaches and unauthorized access are side effects of poorly integrated systems and processes. Without centrally-managed access control from an administrator's ITSM suite, these issues will either persist or manual workarounds will eat into efficiencies.
Maintenance: Integrations require ongoing maintenance and updates to ensure they continue to function correctly—a challenging feat in multi-vendor environments. Changes made by one vendor can have a domino effect, impacting other vendors and systems, and creating security risks and vulnerabilities which might be difficult to track in a complex IT infrastructure.
Vendor coordination and measuring: The whole point of outsourcing services to multiple IT vendors is to benefit from the best practices they have instilled. To realize the benefits of outsourcing, multiple vendors must be supported by fluid coordination and communication from the client side. This presents many challenges for the client, especially if vendors have different priorities, multiple demanding clients, and shifting timelines.
Integrating vendors to build a sophisticated IT service infrastructure is challenging, and although IT leaders excel at managing people, tools, and processes, integration issues can't be solved by simply following ITIL or SIAM methodologies.
In a multi-vendor IT environment, the above challenges only compound if service integrators don't select an integration solution that is appropriate for the situation.


5 An overview of integration solutions
No matter where a service integrator team sits within an organizational chart, they must select a method for building system integrations that is fit for purpose.
Below, we compare five methods for connecting systems across six key factors: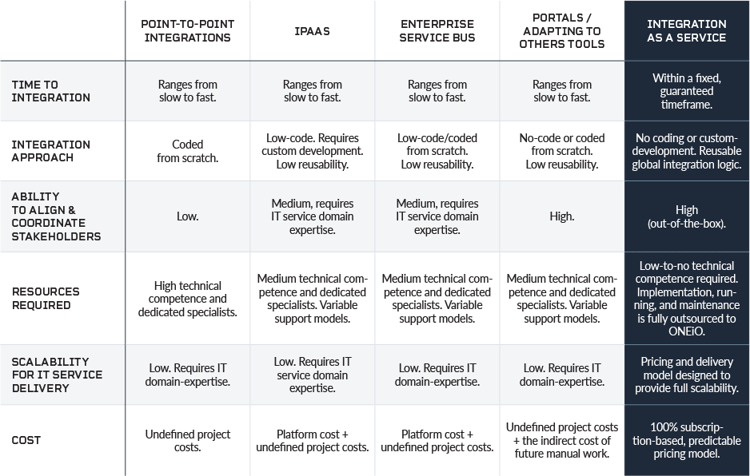 Point-to-point integrations: Whilst point-to-point is the simplest form of integration, it involves manually coding or using an integration platform to create custom integrations between specific applications or systems.
Although this approach can work for small-scale integrations, it's costly to hire skilled developers for creating these integrations and they take a long time to build and deploy. More importantly, for multi-vendor infrastructures, this approach becomes impossible to manage as the number of integrations and systems increases.
Enterprise Service Bus (ESB): An ESB is a somewhat legacy middleware tool that provides a central hub for integrating different applications and systems. ESBs can be powerful tools for managing complex integrations, but they require a dedicated team and expertise to operate and maintain. It's also important to note that ESBs are deployed for on-premises applications and therefore can't compete on the same level as the other technologies listed.
Integration Platform as a Service (iPaaS): An iPaaS platform is a cloud-based integration solution that allows organizations to connect systems and applications with pre-built connectors and workflows. This approach can be more cost-effective and scalable than point-to-point integrations or ESBs though it often requires hiring or training platform-specific specialists.
Enterprise portals: An enterprise portal is a web-based platform that provides a central access point for different applications and systems. While this approach can be useful for providing a centralized access point to IT systems and may have integration middleware capabilities, it can be limited in terms of scalability and flexibility.
Integration as a service: This describes a delivery model where integrations are handled by an integration service provider. Integration-as-a-service presents the best solution for organizations looking for a scalable, repeatable way to integrate external vendors. As is the case with many specialist IT services, it's more cost-effective and scalable to outsource integrations than to develop the internal capacity for building and maintaining custom integrations.

When it comes to managing a complex IT service infrastructure with multiple vendors, integration service providers offer a hands-off approach to connecting IT systems by delivering turnkey integrations, purchased as a complete solution. Depending on the provider, they may offer a user-facing platform with pre-built integrations and workflows for popular tools, and support for custom integrations.

Additionally, the right integration service provider can offer expertise and support for managing integrations across different systems and vendors.

5.1 How integration solutions can support multi-vendor management
With the right mix of people and circumstances, any single integration technology or solution can work. However, the ultimate test of an integration solution would be its ability to improve things on such a profound level that it impacts IT governance and enterprise architecture.

To illustrate this, let's circle back to the capability framework developed by Goldberg et al. in 2015. Remembering the four issues that SIAM aims to tackle:
Measuring services end-to-end


Aligning scope and specifications across provider contracts


Managing relationships and collaboration with and between providers


Defining standardization and modularization
The capability framework highlighted in the paper requires that solutions aiming to tackle these four issues must comprise the following 6 capabilities: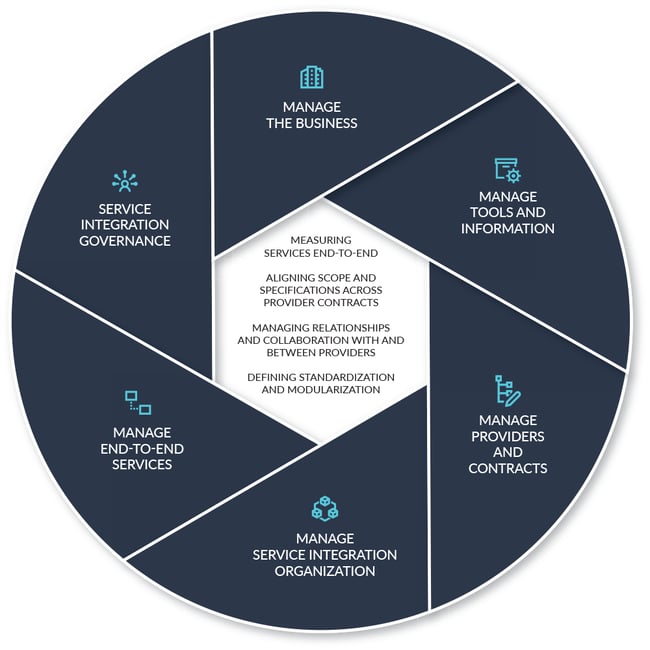 The paper concludes by stating that: "...clients implementing multi-sourcing with interdependent services should build the outlined capabilities in their organization."

An integration solution that can facilitate these capabilities would therefore be the most appropriate choice for organizations looking to manage their IT service integrations and multi-vendor IT infrastructures.
Ways that integration technologies affect vendor-management processes:
Improved vendor selection: The right integration technologies can help companies more easily evaluate potential vendors by providing access to real-time data on vendor performance, pricing, and other important factors. This can help companies make more informed decisions about which vendors to work with.
More efficient onboarding: Integration technologies can streamline the onboarding process by automating many of the tasks involved in setting up new vendor accounts, including data entry, document management, and compliance checks.
Improved collaboration: Integration technologies can help vendors and their clients collaborate more effectively by providing real-time access to shared data and tools. This can help reduce communication barriers and improve overall project efficiency.
Better monitoring and performance management: Integration technologies can provide real-time visibility into vendor performance metrics, making it easier for companies to monitor vendor performance and identify issues that need to be addressed. This can help improve vendor accountability and overall service quality.
5.2 An integration solution for optimized multi-vendor management
To summarize, because the business landscape is changing so quickly, organizations that use a multisourcing strategy to stay ahead of the IT curve should apply the same thinking to integrations by using an external integrator (as described in the section on SIAM organizational structures).
But not all external integrators offer the right solution for organizations looking to optimize the management of multiple IT vendors. What they need is an integration solution that facilitates collaboration between vendors and clients, increases end-to-end service visibility, and helps the retained IT organization orchestrate services effectively.

ONEiO is a specialist integration service provider that delivers turnkey integrations using cutting-edge technology for the next generation of IT services. With standardized integration delivery and uniquely-modular integrations, ONEiO's proprietary integration solution provides a bedrock for organizations to develop the 6 key capabilities required for SIAM success.
5.3 For service integration governance
Effective service integration governance is the core capability required in any sophisticated outsourcing strategy.

Because ONEiO provides the retained IT organization with a platform that enables data exchanges between individual service components or whole service providers alike, organizations can understand relationships and define interfaces between individual modules with real-time data visibility to all service touch points across the entire IT service ecosystem.

ONEiO allows disparate teams to establish clear guidelines and common principles, as well as standard operating and cross-supplier procedures. Running integrations on ONEiO lets organizations better manage their service integration governance and establish blueprints for distributed service solutions, ultimately leading to more efficient and effective service integration.
5.4 For service integration management
Service integration allows a single conductor to orchestrate the delivery of IT services, even from a network of disconnected providers. This requires service integration management.
To properly orchestrate service integrations, communication, organizational design, collaboration, as well as change, relationship, and ongoing skill management must be considered. One major blocker in implementing service integrations is the various disparate processes and tools used by different vendors.

ONEiO's integration solution lets all parties continue working with existing tools and processes. ONEiO takes the applications a vendor uses throughout its service offering and bundles them together as modular endpoint types.
Organizations can connect their own endpoint type to integrate a vendor's service offering or, if required, create vendor-vendor integrations. The scalability, modularity, and flexibility of ONEiO's solution go a long way toward smoothing client-vendor and cross-vendor relationships in complex business ecosystems.
| | |
| --- | --- |
| | Best of all, ONEiO is an excellent solution for vendors too—allowing them to onboard new organizations in a standardized, scalable way. |
5.5 For managing the business
Developing a service portfolio in line with business requirements and keeping up with business demands is a key capability of a well-managed multi-vendor IT infrastructure.
For a start, outsourcing integrations to ONEiO increases the agility of any retained IT organization or service provider. With intelligent ticket routing, ONEiO can automate many laborious, manual workflows within ITSM processes—such as ticket-data enrichment (CMDB), cloud-resource provisioning, tool migration, and automated ticket escalation—teams are more agile and able to support business-critical projects more readily.
With this added agility, teams can also focus on developing services towards ITSM excellence—then IT organizations move from being cost centers to business enablers.
5.6 For managing tools & information
As emphasized in the literature, by Amaral et al.(2011) and Anderson and Parker (2013), tool integration enables knowledge management. But the integration of diverse tools across numerous suppliers is often considered the toughest challenge in service integration.
Whether it's tools for reporting or incident management, the more IT vendors that are involved in an IT ecosystem, the more complex it becomes to integrate the tools. A solution that's often tabled is to adapt tools between suppliers or reduce the number of tools overall. This defeats the logic of buying from these vendors to gain their best practices.
ONEiO can be a solution for both vertical and horizontal integration thanks to a team that deeply comprehends the tooling and procedures in a multi-vendor IT infrastructure and a single platform solution that enables a centralized view of what tools are integrated, which data are coming from them, and who those data reach.
5.7 For managing providers and contracts
As any IT leader knows, IT organizations are measured on service efficiency and quality. If your services are subject to a long chain of command, from the retained IT organization to the service vendor, the solution chosen to integrate these services must be fit for purpose.
Where multiple vendors present a single business-facing IT organization, using ONEiO's integration platform can help teams achieve service excellence. Monitoring service level agreements is easy when IT leaders can see ticket submissions, escalations, and resolutions first-hand and in real time.

With a service portfolio dependent on multiple outside suppliers, IT leaders are up against it when trying to gauge vendor performance. With the ONEiO unified endpoint-type integration method, organizations can integrate monitoring and performance-tracking tools with their ITSM suites to stay on top of SLAs and manage providers effectively.
5.8 For managing end-to-end services
By carefully laying out the terms of the SLA, as well as service measurement and quality measurement plans, organizations can start to understand service delivery accountabilities from end to end.
With service delivery measured on cost, quality, and time-to-value, service integrators and the IT leaders directing them require an integration solution that meets these needs.

Aside from service touch point visibility and the ability to integrate monitoring tools, ONEiO integrations have a 100% success rate, 365-day runtime, and no maintenance breaks. This removes the need to investigate ONEiO integrations as the cause of service hang-ups.

Additionally, standardizing the integration process for all vendors in a multi-vendor system leads to equality of service integration that allows IT leaders to focus on the real issue in end-to-end service management—are the chosen vendors offering the best possible service?
6 Future-proofing multi-vendor management with ONEiO
At ONEiO, we believe that in addition to death and taxes, there's another inevitable truth in life: Progress. This revelation wouldn't be lost on a business like Kodak, where technological advancements played a starring role in its eventual bankruptcy.
Agile IT vendors will shift and change with the tides, and by outsourcing to them, large enterprises gain not only best practices but the agility and innovation they need to survive. This is why IT multisourcing is the future.
6.1 The emergent integration trend: IT ecosystems
The ecosystem around vendor management is evolving into a converged service integration model that is simple, competitive, agile, and cloud-based.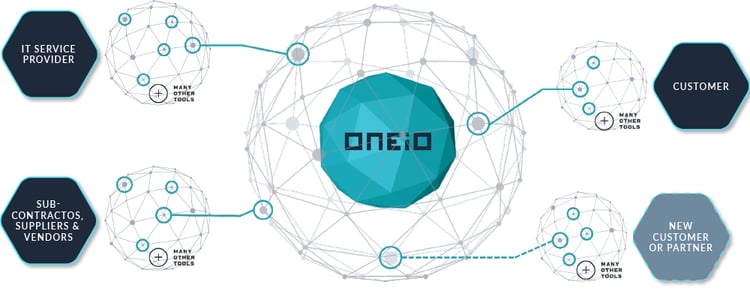 As a cloud-native integration service provider, ONEiO provides a secure, reliable, and always-on service. When integrations are delivered in a set time frame and at a fixed price, organizations eliminate the challenges that come with traditional integration projects and gain a significant competitive advantage.

Spaghetti architectures connected by flimsy point-to-point integrations are unmanageable in a multi-sourced IT landscape—as are the lengthy and costly integration projects they create.
The standardization and modularity of the ONEiO approach are best suited to expansive integration needs requiring repeatable outcomes. And in this scalability, the ONEiO integration solution helps organizations build an integrated IT ecosystem that's ready to adapt to the changing IT landscape.
6.2 Integrations into the future
ONEiO is constantly evolving to meet the integration challenges of the future.

Guided by the principle that organizations should retain the ability to orchestrate their IT services, the ONEiO vision for the future sees an interconnected ecosystem of enterprises and service providers employing and deploying best-of-breed solutions to deliver value.

Underneath it all is the ONEiO integration layer, connecting systems discreetly, efficiently, and with certainty.
Contact us right away to begin mapping out your IT ecosystem with our integration experts. Learn how a scalable integration solution can transform your organization's multi-vendor management.