Let's face it, getting everything right the first time is not easy, especially when dealing with complex settings like multi-vendor SIAM rollouts.


Who hasn't been there - the production rollout deadline is closing in and the amount of known issues and things not considered in the planning phase are piling up. Time to make that unpleasant choice: roll out and live with the consequences or postpone and hope to fix at least some of them. Because once it's out there, it cannot be touched. Neither sounds very tempting, does it? What if there was an alternative?

At ONEiO Cloud Corporation, we believe in a more agile way of creating SIAM integrations. Through transparency, we enable our customers to monitor the service as it happens. In practice, issues will be seen and detected as they occur. We also provide easy-to-use configuration tools and a test environment. This means issues can be addressed as they occur.
Watch a deep dive demo how ServiceNow, Jira and Zendesk are seamlessly integrated together using ONEiO iPaaS as an integration platform.
So, the question no longer is about getting everything right the first time. It's about proving a service and being in full control to continually improve it based on real needs, as those needs emerge.


So far, not a single one of our customers has turned down the possibility to improve their service through agile service integrations. So what do you think, can service integrations improve?
Read more about agile service integrations:
5 tips taking more agile approach for service integrations
Utilizing software integration in agile world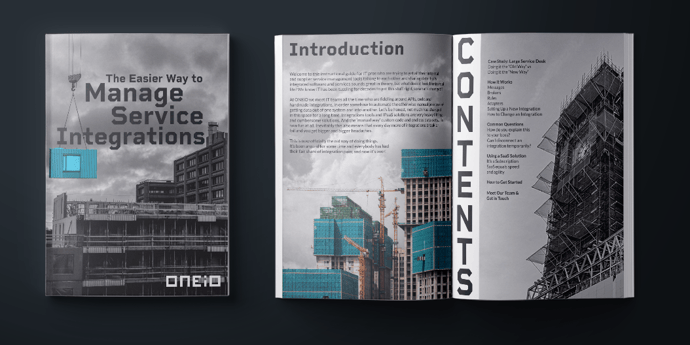 The next era of integrations
We are moving towards the next era of integrations. From labour intensive and specific coding skilled developers world to a fully automated and self integrated world. There are already solutions available that automates complex service integrations not just simple data sync. Check out the next generation iPaaS: ONEiO