This time I write about some of the themes I will cover in my seminar on agile supplier management and improving approach to SIAM at SITS17 – The Service Desk Show (7-8 June, London).


What do IT leaders want from better supplier management?

SIAM (Service Integration and Management) is on the rise and IT organisations all around the world are moving much faster towards implementing far more robust and third party focussed methods of delivering families of complex services. For many businesses, complexity tends to just breed more complexity. Adding more suppliers and vendors to the mix, piling on more contracts and producing more metrics seems like a great deal more work… and for what reward? Does it deliver a faster service? Is cheaper? Is it more collaborative? These are all questions and doubts that arise in a IT leaders mind when they begin approaching these changes.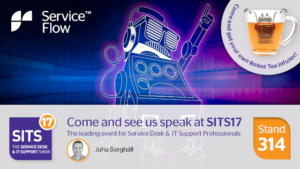 Fortunately, there are a number of paths you can follow to ensure that increasing a vendor network can actually simplify your supplier management and provide you with all the indicators you need to see a strong Return on Investment. For many people in the IT industry this just looks like high performing SIAM, however I like to believe that there is a more agile world beyond just 'great SIAM' that provides a whole raft of benefits, not seen in traditional service integration or supplier management frameworks.


The answer comes from a more connected approach to IT and right focus

At Service-Flow, we are seeing more and more of our customers shift to a networked approach to not just managing multiple suppliers, but multiple sets of ITSM toolsets too. These two things have obviously been around for a while now but there is a very noticeable change going on in terms of how modern IT teams are approaching the setup, management and agility of these complex integration driven projects. Main thing is that the end-to-end processes and related operational model are ones that enable lower costs and better quality of the service, which are the objectives of outsourcing.



Some of these drivers for change come from the tools and technology IT leaders select to manage the integrations and data between suppliers and different support software (ITSM tool) they have in place. A lot of waste created in terms of time and cost tends to come from overly manual or fragile systems between suppliers and customers.


For example, a managed service provider (MSP) and a customer may want to have an integration between their two different IT support ticketing systems in order to have better control as well as reduce the delays caused by either party not having up to date or matching data on active support tickets; in addition, MSP needs to have integration between their subcontractor as well.


High amounts of waste are often created when trying to put solutions for this in place using hand coded integrations delivered as technical integration development projects. At Service-Flow we have developed out-of-the-box means to integrate different tools and processes of separate parties in multi-sourced environment, which means the speed of setting up the integrations is reduced from weeks to months to just a few hours. And the issues traditionally faced around fragile, hand coded integration such as maintenance, breakages and complex changes are also removed completely.


If you would like to learn more about how you can implement high functioning, cost saving and service focussed integrations in your business, make sure to attend my free session on agile supplier management at SITS on 7th June 10:30 - 11:10 at Theatre 3.

For more details and to register for you free ticket, just head over to http://www.servicedeskshow.com/