The Finnish software service provider Service-Flow has announced a new partnering with the SIAM consultancy Syscom A/S.
In response to positive market feedback and high demand in Finland, Norway and Sweden since 2012 and the launch in the UK 2015 and in Germany 2016, Service-Flow has been seeking out sales and implementation partnerships from other parts of Europe. The new partnering with Syscom A/S is an important step forward in the Nordics and beyond.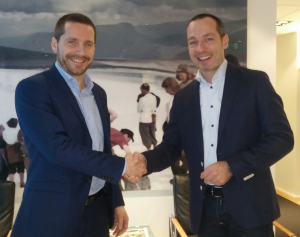 "Since our solution is disruptive, we need partners who are willing to take their services and their clients to the next level. In practice we are looking for sales and ITSM consultancy partners who's business is in creating exceptional value through simplicity, not complexity. That said, I'm really excited about cooperation with Syscom A/S who have a strong track record acting as trusted advisor for their clients in the Nordics and who share the same values as we do" says Service-Flow CEO and co-founder Juha Berghäll.

The partnership between the two companies also contributes to a larger, shared vision, which focuses on educating and thereby enabling the market to take more concrete approach for managing and delivering enterprise services in multi-vendor and -customer environments. True cloud based Software as a Service (SaaS) such as Service-Flow act as an enabler particularly in the simplification and automation of end-to-end service workflows providing superior scalability, availability and flexibility. SIAM specialists such as Syscom A/S are then able to take this solution and apply the specialist knowledge required to create focused and high value outcomes from processes, not technology.
"The strong partnership and close collaboration with Service-Flow, as the world's first SaaS solution for Service Integration, is valuable for our vision, which is to match customer requirements with best of breed solutions. Syscom A/S has expanded its portfolio to provide a unique solution for Service Integration and (Multi-)Provider Management. With Service-Flow, Syscom has disrupted itself through the massive reduction in integration consultancy through Service-Flow. We are now able to provide a more cost effective and faster Service Integration capability with lower risk" says Syscom A/S CEO Finn Nøhr.

About Syscom A/S:
Our mission is to match customer needs with the right solutions. Syscom has implemented ITSM solutions since 1996 and thereby gained a vast experience within Service Management.

We offer strategic and operational counseling in Service Management, Service Integration and Knowledge Centered Service. In close cooperation with our clients, Syscom provides durable solutions that make a difference and create sustainable business impact. For more information please visit www.syscomworld.dk.
About Service Flow:
Service-Flow Corp. is a software service provider specialized in developing and producing the world's first SaaS solution for Service Integration.
Service-Flow all-inclusive solution enables outsourcing service buyers and service providers to integrate ITSM tools and digitalize service processes just by subscribing to Service-Flow SaaS. Connect, configure, run – in a day.

Service-Flow offices are located in Helsinki and in London. Certified partners are supporting our clients to utilize Service-Flow solution worldwide.
Additional industry recognition: Service-Flow was nominated to the Gartner's Cool Vendors list 2016.
For more information on the partnership please contact:
Service-Flow
Juha Berghäll, CEO
+358 (0)40 5895121, juha.berghall@service-flow.com
Syscom A/S
Finn Nøhr, CEO
+45 51331369, finn.nohr@syscomworld.dk