At ONEiO (formerly Service-Flow), we are great believers in having a good vision and sticking to it. As a result of this, recently the company has made some massive leaps forward and in this blog post, ONEiO Co-Founder and CEO, Juha Berghäll talks about what we have achieved and why it is so important to ITSM.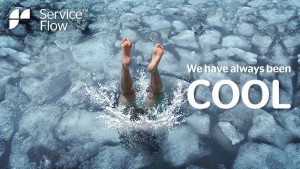 What has happened and why are we so excited about it?

As an entrepreneur, the way I approach succeeding and failing is vital to not just how ONEiO grows as a company or product, but also how the culture of our team takes shape. I could write for days about the challenges and lessons we have faced along the way.

However, today I get to tell you about a great success we have had, one that highlights some of the big breakthroughs we have had as both a product and a team.
On 19th April Gartner released its 2016 Cool Vendors in ITSM 2.0 paper and I am proud to say ONEiO is sitting right at the top of the list.

The Cool Vendor report presents ONEiO in a simple and honest light, explaining some of the methods we have taken to removing the complexity from modern ITSM integrations. It also focuses in on some of the key problems in IT services, which we have been working so hard to help fix. Such as; reducing the amount of time and money wasted in working out how support tickets flow between IT and suppliers, radically simplifying the actual mapping of processes and of course the growing need for automation.

This is not only an achievement of recognition for us, but it acts as a solid validation of our company vision too. Seeing that the approach we have committed to taking to better service integration, is well aligned with Gartner's own views and observations, has offered myself and my team a world of confidence.

Why should you care about all this?

Every day, we talk to new customers or companies enquiring about how ONEiO works, about the complexities they have around integrating their own methods of support with their suppliers. Many of these IT teams will pass on dozens or even hundreds of support tickets a day to third parties, these tickets either end up lost till resolution or in a state of perpetual 'following up'. It is a very common challenge, especially in SIAM driven multi-vendor environments.

ONEiO has solved this problem, and this is why Gartner have taken such a key interest in us this year. From a customer perspective, we hope this will help us to overcome a problem we face ourselves, which is that people often don't believe that we can do it!
So many companies work with low or no visibility of how processes such as incident management or request fulfilment work across their suppliers. As pointed out in the Gartner Cool Vendors paper, many managed service providers have spent large amounts of money in developing their own bespoke solutions to these mappings, but what happens after that when you want to make a change to something like an SLA or process rule? Whatever great bespoke integration system which was put in place at great expense, has to change. All this complexity adds so much weight and waste to a company. More and more businesses have become so used to either applying complex workarounds to this, or have sometimes just given up. Convincing them that we can provide one space for every process to live, that we can make multiple ITSM tools play nice together and that we can automate it so every process change you make instantly fits with your supplier's… is sometimes a pretty tough sell!

It is something most disruptive products and companies like ONEiO, who are essentially one of the first to do something new, come up against while growing their business. For each person who loves what you do, there is a queue of more cynical people, eager to tell you why it can't be done. This is something every entrepreneur must face - but when you have belief in yourself, your team and your product - breakthroughs do happen. For ONEiO, this powerful and global recognition from Gartner is definitely that. We can now more confidently step out into the market, knowing IT organisations around the world believe in what we can do.

How are we moving forward with this?

Well, we are not quite buying Ferraris or islands in the Bahamas just yet, but we may have popped a Champaign cork or two in celebration!

Working with Gartner has taught us a lot about how we talk about ourselves and the stories we tell about our work. Unlike some industry reports, the Cool Vendor list is not just something you pay to be on. Gartner actively seek you out as a cool and innovative product, then quiz you and your customers pretty hard in order to find the true value in what you do.

Gartner's definition of a Cool Vendor is a small company offering a technology or service that is:
Innovative — enables users to do things they couldn't do before.
Impactful — has or will have a business impact, not just technology for its own sake.
Intriguing — has caught Gartner's interest during the past six months.
Source: http://blogs.gartner.com/jim-hare/2015/10/04/tech-providers-why-you-should-become-a-cool-vendor/

The experience of sharing our success in this way has taught us how valuable it is to tell both our own story and the stories of our customers. We are now taking more opportunities to meet face-to-face with IT leaders around the world, to discuss what amazingly simple and automated service integration can really look like in their company. We want to help them realise how they can change the story they tell about themselves too.

If you would like to read the report, it is available for download from Gartner and costs $495. Or if you would just like to find out more about how we can help you simplify what you do, get in touch with us today, we are always happy to hear from you.