Ahead of SITS - The Service Desk Show (7-8th June, London) Service-Flow Chief Product Officer, Janne Kärkkäinen is interviewed about some of the tools you'll be able to get hands on with at the show and the latest breakthroughs he has been working on for connecting and integrating these tools together.

What can you tell us about what Service-Flow will be doing at SITS this year?

Janne: SITS really is the biggest and best meeting of ITSM professionals AND suppliers in the business. The nice thing for us is that we want to be spending more and more time with both of those people. We don't have any competitors in the room to distract us, we just want to talk to as many people as we can about how they are getting on with topics like software integration, SIAM and supplier management. Having such a great size exhibition stand, we can easily show off to everyone how our own software fits in within the industry and connects all the other great tools together.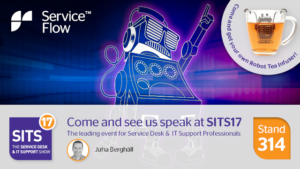 A lot of the vendors taking part at SITS are providing service management and service desk software, how does Service-Flow fit in with that?

Janne: Anyone that has seen our software before will know that it very quickly and easily joins any number of Service Management tools together. There are easily over 50 different ITSM tools and 100+ vendors at SITS and we can most likely integrate with all of them in some way or another. The big hitters on the exhibition floor such as ServiceNow, Atlassian, BMC, HP, Cherwell and Zendesk are all obvious go-to vendors.
Our place in that mix is to help IT teams who are working across more than one instance of these tools, either internally or through suppliers achieve invisible and real-time integrations between them. No coding, no crazy customisations and no tiresome projects, just easy out-of-the-box integration solutions.
You said that you don't have any competitors to worry about. Does this mean you have something unique or revolutionary to offer?

Janne: I like to think so! And Gartner agreed by nomitating Service-Flow as "Cool Vendor in ITSM 2.0" last spring. However, every vendor in the ITSM space and indeed at SITS, will have something unique and cutting edge to offer, that's why they are there. With Service-Flow our biggest competitor is in fact the customer themselves and their inclination or insistence on doing things manually or 'the old fashioned way'.

We have always described Service-Flow as a 'first to market' product, and that comes with as many challenges as it does opportunities. The surprise and the delight we get from an IT manager or Sys. Admin. when they see how we can get service tickets in something like ServiceNow, automatically communicating and synchronising with a corresponding ticket in their developers' instance of Jira. I love showing people not only how it works, but also the fact that it really does work! It's a great feeling, but it is also the flip side of being new and revolutionary, people do need to see it to believe it.
SITS is famous for having all the best tool vendors in one room. How does taking Service-Flow to events like SITS change the way you engage with those vendors?

Janne: It's interesting, every year we turn up at these events and every year we have more and more software vendors coming to us, wanting to become a part of what we're doing. Maybe they read about us, or heard about us from a customer and now they want to meet us in person and try putting our product to the test. The consultants and architects at these companies get particularly excited because they can see how much time and cost it will take off their implementations and how much it will help their customers.


The cool thing about SITS for us, is that we can talk to an IT manager about what tools they have seen that day and what changes they might like to be making in their services and so on, then directly and immediately solve some of the hesitations and barriers they might have had to going ahead with a new tool. Integration timelines and projects – especially in SIAM environments – can be long and tiring for everyone involved, it can really put people off from moving quickly on a new tool. Being in that decision making space at SITS can move things for quicker for everyone, it's very exciting!
So finally, what is your advice to any IT pros. looking to visit SITS this year?

Janne: Come with projects and objectives in mind. It's great to come a look around the event and see what's new on the market and so on. However, taking some time before coming to an event like SITS to really think about what your team is struggling with or where you'd like to see your business getting more out of IT is a brilliant exercise to do to ensure you're coming prepare to find genuine solutions.


Events like SITS aren't just about the tools, there are some extremely intelligent and gifted industry people there and you can learn a lot just from short interactions with them. So don't just come to 'window shop'… come to learn and to find the knowledge you need to make meaningful improvements to your services.


SITS17 is free to attend and taking place at London, Olympia on 7-8th June. You can register for free here and we'd love for you to visit us on exhibition stand 314.