Managing the development of cutting edge technology is a tough and challenging job. However, Janne Kärkkäinen the CTO at ONEiO took a few minutes out of his busy day to tell us what he gets up to.
Q: Hi Janne, Thanks for joining us. Tell about what you do at ONEiO.
Janne: Thanks. Well first and foremost I drive the direction of our continual developments within ONEiO. It is a sophisticated piece of technology and we are always exploring new ways to make it do more. As a Co-founder of the company, I also spend a degree of my time with the executive team, working out how we want grow and shape as a company.
Q: Do you get to spend much time away from the coding and technology?
Janne: Absolutely. I actually get to spend a lot of time with customers, it's one of my favourite things to do. Being that I am so close to what we are pushing the ONEiO platform to do, talking to customers about things they may or may not believe to be possible with their technology, then working out a way to do it, is probably the most satisfying part of my job.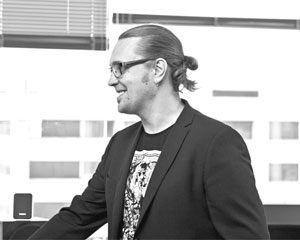 Janne Kärkkäinen, CTO & Co-Founder

Q: Great to hear! Have you got any good stories you can share from the more challenging work you have done with customers?
Janne: Sure, I was recently working with a big insurance client we have in Finland, where we had to support a sizeable migration, with lots of complex supplier integrations. This wasn't anything out of the ordinary for us, but we ended up spending a lot of time with the customer, getting to understand what they wanted to achieve.
They were using Efecte, which is a popular ITSM tool in Finland. They had also recently been through a significant merger, which had led to them outsourcing a great number of services, all of which were connected to their own IT services through Efecte. They needed our help because they were moving Efecte to a new server and needed to make sure all the supplier integrations didn't break in the process.
Q: Sounds tricky… How do you normally approach something like that?
Janne: Actually it's not tricky at all. We can now use ONEiO to effectively pause the active integrations and queue all the messages being sent between each connection. Though to be honest if I wasn't using ONEiO for this, it would be really hard! Manually moving integrations from ITSM tools to other external services can involve a lot of new code and releases. Making sure you don't lose any tickets, configuration changes or data packets - especially those that are sent through the integration while the switch is being made - is really risky.
I think this is why I find working on ONEiO so exciting. We don't just solve a problem, we make service integrations radically simple.
Q: During a migration like this, how does the customer decide when to make the big switch?
Janne: They can do it whenever they want. For this particular customer we did spent a few weeks with them before hand, helping them to build the new server they were moving their ITSM software installation to. That was useful for both of us as we could get a better understanding of all the various service management and infrastructure supplier integrations they had going on. For them it was good because they could still carry on 'business as usual', which is definitely not normally the case for this sort of migration!
So once the new server environment was ready to go, the actual switch only takes a few minutes. Because this was the customers first time moving integrations this way, we were there to make sure it went smoothly. But in all honesty it is very quick and easy to do. We just hit the pause button in ONEiO, another button to switch the connections round and then one last click brings it all back online. Any messages sent through the integrations mid-switch, just get queued and are delivered to the new connection point when everything is un-paused.
Q: That's sound quite cool! How much more complex is it to do it without a tool like ONEiO?
Janne: Thanks! I think it is pretty cool too. Yes these migrations are complex to do manually. It is difficult to say HOW it is done, because when you take the manual approach, every supplier integration has to be done separately, some takes hours, some take weeks. That's why we use automated integration tools like ONEiO.

But that's not the issue. From an efficiency point of view the real problem IT faces is when migrations and integration changes take so long, what else is it stopping you from doing? We need to start seeing complexities and delays in integration projects as real business waste.
We now know that changes in supplier integrations – from simple stuff like SLA amendments to bigger things such as the migration I talked about already – should be quick and easy. If it takes longer than something like swapping the SIM in your phone, or logging a service desk ticket, we should see this as a delay and a waste.
Q: Are you saying that integration should in fact be seen as a simple 'business and usual' thing?
Janne: I am, 100%. Times change and businesses change. Right now businesses want speed, they need IT to help them get ahead of their competitors. Many large organisations see models like SIAM as an effective way of getting all the best-in-class suppliers on board, in order to enable that sort of speed and success in their business. However, slow and complex integrations also make them scared of it.
In order for a business like ours to be successful, we have to lift our heads above the tools, toys and tech often enough to focus on what we are REALLY trying to do. Helping businesses win the race against their competitors through the use of cutting edge IT. And much like any race, winning is all about speed.