Freshservice and Freshdesk are rising stars of the Gartner magic quadrant. Being a Freshservice and Freshdesk provider, Synerity has recognized the importance of incorporating integrations to expand the capabilities of these platforms. With this knowledge and approach Synerity has seen growth and expansion at a rapid rate, doubling their company size in the past few months.
To provide their customers with lightning fast turnaround and the most reliable service experience, Synerity has partnered with integration service provider ONEiO. With ONEiO as their integration automation platform, Synerity enables their Freshservice and Freshdesk customers to rapidly expand the capabilities of their tools and connect multiple platforms through ONEiO's vast marketplace of endpoint types.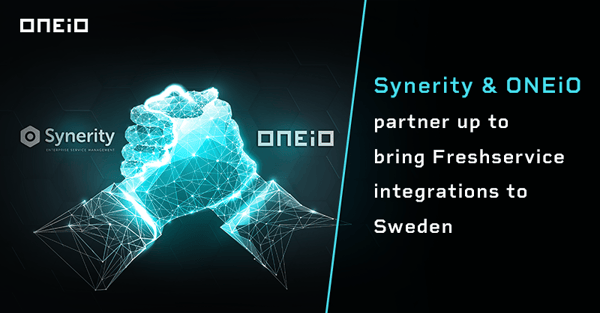 "We've been seeking an expert in the field of integrations who can provide the level of service, technology and support that our customers have grown to expect from us and we have found that in ONEiO. With ONEiO in place we are providing our customers with a top solution that is lightning fast. We look forward to further progress alongside our new knowledgeable and experienced partner while continuing to exceed the expectations of our current and future customers." States Glenn Alvérus, CEO of Synerity.
"We have witnessed first hand the emergence of Freshservice as an integratable platform over the past few years and we are excited to be a part of the growth and expansion of bringing this platform to new customers via our partnership with Synerity. We have seen the speed with which they have grown in a short period of time and look forward to providing support and experience to their customers via our integration platform and services." Adds Juha Berghäll, CEO of ONEiO Cloud.
About Synerity
Synerity was founded in 2015 to bring IT advisory and tool services to businesses across Sweden and beyond. Combining their experience and expertise, molded by a belief in the importance of being customer focused and providing products and offerings based on industry leading analysts such as Gartner and Forrester, Synerity strives to exceed customer expectations.
About ONEiO Cloud
ONEiO Cloud is a cloud-native integration platform and service provider connecting people, processes, and tools – enabling seamless collaboration without traditional integration hassle. Provided as a turn-key solution, as self-service, or something in between. You choose.
Founded in 2011 in Helsinki, Finland, and now with offices in Germany, the United Kingdom and the United States, ONEiO's approach to solving traditional integration delivery and production challenges with their vendor neutral integration solution has seen rapid demand among European and North American enterprises as well as Managed Services Providers.