Okay, big news. ITIL 4 has hit the market and there is a huge amount of positivity and buzz around it. And it some areas; it is genuinely new, innovative and different to what we have seen from the ITIL framework in the past. A lot of the language has been changed to better reflect the way modern businesses think and talk. And, although many of the familiar processes (now called practices) remain, the operating system ITIL is now built on has had a total rethink.
Honestly speaking, we really like it. However, some of the new underlying approaches need some time to get to grips with. As there are plenty of blogs out there already introducing the new ITIL practices… we thought we take the time to focus in on the major changes and what we think of them so far.
The Service Value System (SVS)
BOOM! This is the biggest new thing in ITIL. When ITIL Practitioner introduced the 'Guiding Principles' one of the nine principles was 'Focus on Value'. This has now been expanded out to sit within the very heart of ITIL, and what was once just a definition for understanding how IT creates business value through services, is now matured into a complete model of thinking.
The diagram the supports the model is useful in regards to getting a feel for the hierarchy of terms in ITIL. However, we do feel it's not a self-explanatory as it could be. You really do need to get your nose into the book and attend the courses if you want to get a genuine understanding of the terms and the way it works.
We're not going to get too deep into how the SVS works in this post. Instead, we want to focus on a few things inside the SVS and explain some of the new ideas, terms and improvements.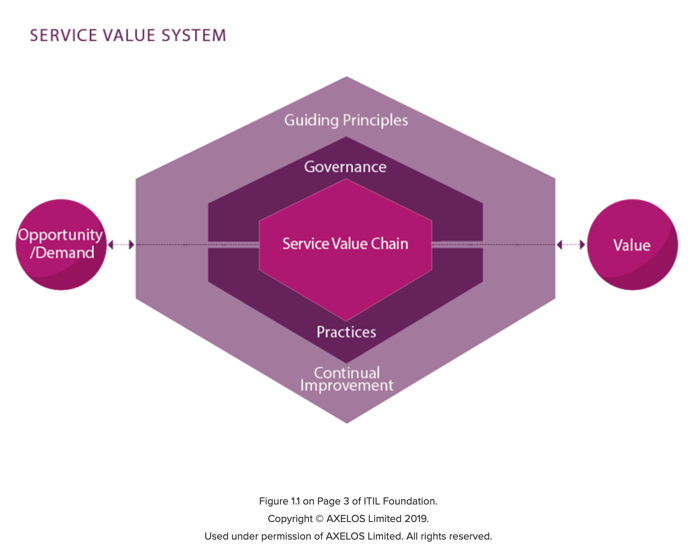 Demand and Opportunity
What is it?
So, demand as a concept features in previous iterations of ITIL and fits neatly into the service strategy part of the framework. It offers some useful tools and tasks around understanding the needs of your customer and the business. But IT reacting to external demand is one of the ideas that placed constraints around ITIL. Demand as a principle suggests that IT's job is there to serve a need, and any innovation or improvement is done internally and in isolation, purely for the benefit of meeting that predefined need.
When we introduce opportunity into this mix and treat it as having equal importance as demand, things start to change. This is because we can begin looking outside the four walls of IT for improvements. IT can now play a role in understanding the customer, the market and the communities the business operates within. Then react to wider changes, in order to design and deliver innovative services that make the business and brand more competitive.
Why we like it
Because it plays into innovation, wider thinking and enables IT to become a as outward looking as any other team such as sales or marketing. Businesses that led with digital and technology are today's market winner. It's what turns DVD rental into Netflix and 'trying to flag a taxi in the rain' into Uber. ITIL is thinking in the same terms and it's great.
Co-created Value
What is it?
Value creation has always been a big theme in ITIL and ITSM (although most people still continue to skip the ITIL definition of Value) however, it's been held up by the idea that value moves one way. The market understanding of value is often that it is something that has been created by one person, for another. ITIL 4 breaks that convention and turns value into a shared activity, managed and measured by the ecosystem itself. This is good news for big organisations and complex services managed across a variety of teams and suppliers. Co-created value now means that IT and the business is the sum of its parts and ITIL now gives you the guidance you need to put this shared understanding and responsibility in place.
Why we like it
Because it provides a highly practical approach to bringing down the 'Us vs Them' mentality, which so many IT teams find themselves tied up in. It also plays well with our SIAM approach, which is centred around making it simpler and easier for teams and suppliers to collaborate around common objectives. Collaboration is one of the biggest customer outcomes which we focus on at ONEiO, and the co-created value concepts within ITIL 4 really support the success of better collaboration.
Service Value Chain
What is it?
If you look at the Service Value System diagram, the Service Value Chain (SVC) lives right in the middle. So, if you like, this is the new heart beat of ITIL. Again, the SVC comes with its own slightly ambiguous diagram, but the words are all there (Although, for some reason opportunity has been dropped and were back to just looking at 'demand' again. However, we don't feel this is reflected in the actual guidance itself).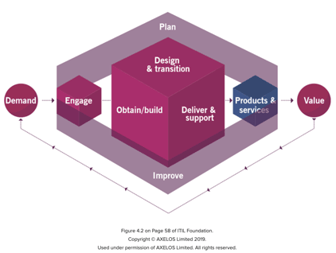 Interestingly, this looks like its inherited some thinking from the famously borrowed Deming Cycle (Plan, Do Check Act), which has been reference in ITIL for many years. We think this is because for some time now ITIL has been trying to redeem the confusion that CSI is the 'last ITIL book'. So, by introducing parts of the simplest to understand CSI model into this central part of ITIL, is a really smart idea. It almost places 'improvement' as an unmovable object in the ITIL framework, ensuring every opportunity to improve in line with the needs of the customer are featured in the ongoing work of IT.
We do still think this area of the guidance needs more clarity around it from AXELOS, however we are already seeing that feedback make its way back to the ITIL 4 architecture team and the iterative release process of the guidance will no doubt take that into account.
Why we like it
As mentioned, SVC lacks the simplicity needed to make it easily adoptable at this stage. But the purpose and intent behind it is very clear. We like that it puts a 'planning and improvement' wrapper around every activity IT undertakes and offers some really pragmatic thinking around the newly introduced Co-Created Value approach.
Want to learn more?
To find out more about how you can get started with the ITIL 4 framework, head over to AXELOS, where there are plenty of videos, blogs and resources for you to digest. If you would like to learn more about how ONEiO is leveraging the latest ITSM practices to create more integrated and collaborative approaches to service management, check out our latest advice on ITSM, enterprise integration and Service Integration: