Around a decade ago, IT was gifted with the cloud. Ever since, each and every business in the world has moved more and more of its services and infrastructure to cloud based providers. Many businesses have also pursued (some with more success than others) to create their own cloud-based hosting solutions, in order to provide both ownership and flexibility to their staff and customers.
As more and more services move into the cloud, this introduces a new set of challenges around how to encourage and enable multiple cloud-based services to connect and work together. Especially when those services are owned by a wide range of suppliers and providers.
What is integration as a service?
Integration as a Service is a service layer and delivery model beyond Integration Platform as a Service. It is a way of outsourcing your integration delivery without a need to use any underlying platform (iPaaS) or hire a integration consultant for coding and maintaining integrations. Typically integration as a service follows cloud delivery model.
Integration as a service becomes the next thing on the list to procure and implement. However, is this something you do yourself, expect from your existing suppliers or look further afield for? Traditionally, the answer has come down to how 'simple' or 'complex' the organisation believes and perceives these integrations to be.
Unfortunately, this perception has often hung on the advice given to them by businesses who have learned to profit greatly from the complexity of integration. This makes projects and budgets bias too long time lines, heavily outsourced integrations and monstrous support agreements to compensate for fragile connections between technology.
Nowadays, modern, even complex service integrations are far simpler, more robust and very quick to setup.
As a result, businesses can move away from seeing integration as a set-back or a long project to complete. Instead, it can been seen as a great competitive advantage and a means to mobilising new products, features and benefits to staff and customers alike.
Rise (and fall) of iPaaS
Integration Platform as a service (or iPaaS) is the first step we took as an industry towards mass-managing hand-coded integrations and messing around with APIs. There are software-led but service heavy solutions to mapping, connecting and managing integrations. The likes of Dell Boomi, Mulesoft have their solutions on offer to help connect up a wide variety of other cloud-based software and on-premise technologies.
They provide a very manual, but comprehensive oversight of what is connected to what and how those connections are performing. The main advantage of iPaaS is that it is business wide, so you can confidently onboard IT, Finance, HR, BI, CRM and so on into one platform.
One of the setbacks we have found in even the leading iPaaS solutions is that although the market themselves is acting like a 'hub' where everything is managed from a central place, most of the solutions are still built upon 'point-to-point' APIs, which is no good.
Relying on one-directional API connections presents a belligerent set of issues around scalability and support. Point-to-point API's are just as fragile as they always have been, which puts both IT and the business in an increasingly weak position for maintenance and future growth.
Read more: The Now And Future of Integration Platforms and iPaaS
What about Hybrid Service Integrations?
Yes of course, many services have moved to the cloud. But many have not. Sometimes this is a strategic choice and other times its down to the risk and cost of migration. Either way, it is both important and valuable to view both cloud-based and on-premise services as integration opportunities and a great Service Integration solution will be agnostic to whether a service is cloud-based or not.
However, traditional approaches to iPaaS and service integration have often shown hesitation around hybrid integrations, as it presents the integration provider with a mixed level of control and visibility over the services they are working on. Again, this has contributed to the cost and complexity often put forward to the business by its suppliers, which has slowed down their ability to leverage Service Integration as a benefit to themselves and their customers.
Hybrid Service Integration for many, is now a norm. For those businesses who have taken a more modern and flexible approach to service integration, they have been able to experience the benefits of treating cloud and non-cloud services agnostically. They have also improved the outcomes they get from each software investment by truly centralising the way their tools integrate, and then moving away from old-fashioned API/Point-to-Point integrations.
What are the most common integrations?
All parts and departments within the business have their own common integrations. IT often connects up ITSM, monitoring and development tools. Sales like to connect the CRM with lower-level ABM (Account based Marketing) applications and Marketing will commonly connect up all the smaller tools they use with a centralised platform like HubSpot.
However, at a business level we start to look at more infrastructure-led integrations. Connecting the likes of data management, data analytics, finance, ERP, communications and asset management together, to provide end-to-end solutions to the entire back office operation.
Creating this level of connectivity between solutions such as SAP, Epicor and Oracle can provide a fantastic foundation for running an operationally high-performing business. Then scaling these integrations out at a departmental level, puts the business on a great track for becoming a faster moving, collaborative and agile player in the marketplace.
What are the most common integration platform types?
There are a huge range of integration and iPaaS platforms out there, many of which are tailored to the types and sizes of services and applications you are using. Internally at ONEiO Cloud, we tend to breakdown integration methods into the following categories:
Application Integrations

iPaaS

Integration Automation Platform

B2B Integrations

Enterprise Service Bus (EBS)

Data Integration functionality

Low/No Code Integration

API Management

Hybrid integration platform
What are the limitations of the integration platforms?
With all these platforms, their specialism is both their strength and their weakness. The more specialist tools you implement now, the more you will end up implementing more tools on top of them in the future. If you operate a best-in-class software selection process at the application layer of your business, then you are likely to end up taking up the same process again, when you reach the integration stage.
Another issue is that Application, Low-code, API management and B2B platforms often over utilise point-to-point and API-led integrations, which creates limitations and problems around complexity, reliability and scalability.
The integration market-place has in many respects over-engineered its solutions, providing too much choice and fragmentation for the customer organisation.
The code-based nature of many of the solutions businesses take, also presents a great deal of limitations. Which is why we have seen a rise in popularity in low/no code solutions for integration. No Code solutions provide the most reliable, user-friendly and easy to maintain approaches to managing many-to-many Service Integrations.
So, What are the opportunities beyond iPaaS?
iPaaS was a great solution for the mass-migration to a cloud-based integration platform if you have resources and money. It provided businesses with a single platform, to which they can build, manage and monitor their most valuable integrations. But when combined with the new-found maturity of the market and the swell of specialist tools, iPaaS has now become too heavy to have been utilised as an effective and long-term solution.
So now we move into a world that is better supported by subscription and SaaS based tools, which provide the flexibility and scalability modern businesses need. Integration Automation Platforms enable you to connect the tools, the team, the suppliers and many critical business processes in a whole new way. The simplification of connecting one service to another through the use of pre-built integrations is the first big benefit.
Further to that, we now see cloud-based integration solutions housed in one location. By moving on from APIs and point-to-point connections, you can now seamlessly send messages from one system to an infinite number of other systems, then automate the way those applications interact with each other. This is the cutting edge way of working.
Managing integrations in such a way that data moves and updates across multiple applications in real-time. Processes and workflows between services are automated, removing the need for overly manual communication.
And, people can retain ownership of their tools and software. Most importantly, the long implementation projects and costly support agreements become a thing of the past.
What is the value of moving to a subscription-based model?
Integration tools are typically priced to customers in bespoke packages. Taking into consideration the different functions, platforms, applications and automation they require. Because most integrations have to be created from scratch or even outsourced by the supplier to hand-code, this can be a lengthy and unpredictable process, hence the equally costly and unpredictable pricing!
Truly centralised, code-less and pre-built Integration Automation platforms don't suffer from this same burden. Because of this, pricing can be managed in a far more transparent and consistent way. Removing the need for long steps and complex implementation projects, also negates the traditional consultation and setup costs that an MSP or large iPaaS might require.
These two important factors of pre-built integrations and low-to-no setup time enables subscription-based pricing. This is a revolution in integration pricing, which radically increases your visibility, predictability and control of cost.
Another huge benefit to subscription-based pricing is that you will only pay for what you use. In a traditional iPaaS environment, you are constantly at risk of paying again and again for legacy integrations or for services that are either under-utilised or under-performing.
How can data, applications, processes and teams integrate in harmony?
When we built ONEiO Integration Automation Platform, we focused on a few significant challenges facing businesses wanting to integrate their teams and tools more effectively. Cost and Control were two major challenges, but a third was Complexity.
What we have learned from working on hundreds of IT projects over the past two decades is that complexity, confusion and failure often comes from a lack of appreciation for process and people.
Complexity is often born from piling up software, with no forethought around how the people using it will experience the additional growth in tools.
IT Service Management (ITSM) and its incumbent best practice ITIL®, have for years promoted the equal measure of People, Process and Tools. Yet, many fail to get the balance right. Getting this wrong (which almost always involve overly favouring tools), really comes to a head when you begin investing in integration.
We have seen this common mistake happen in countless organisations, and so now we strongly believe in promoting a 'people and process' first approach to integration. In this approach tools hold equal value, but you must make solid observations and decision around people, teams, behaviour and data before you begin investing in new tools and software.
Around people and processes, we also encourage customers to think decisively about how data is going to be used and shared, and then also how people work as teams and across departments. People, process, data and teams are essential components to getting software integration right. And, this only becomes more important when your integrations start reaching into enterprise wide applications and leveraging a wider range of services in-and-outside the cloud.
How can this make my business more competitive?
Cloud based products and services are normally bought with the adding of market agility and competitiveness at the front of mind. The biggest benefits of cloud-based business and computing is the flexibility it provides you with when scaling specific business functions up and down to suit your immediate needs.
When you then implement rigid integrations into your various cloud-based services, you begin to throttle how flexible these functions can really be. So, when selecting your approach to cloud integration, you want to place your initial objectives for moving to the cloud at the top of your priorities.
If 'going to the cloud' was meant to make you faster, smarter, more flexible and scalable… your integrations should be adding to your ability to do those things. Finding yourself in a situation where the management of integrations feels like it's put you at a disadvantage is the result of not aligning your 'cloud migration' objectives with your 'cloud integration' objectives. And also, not understanding the advantages of modern service integration.
Ultimately, all IT projects should add to the competitiveness of the business. However, the integration marketplace has created a lot of complexity, especially around the bringing together of cloud based and on-premise solutions.
As a business, your way round avoiding this trap is to consistently prioritise the reduction of cost and complexity, and to increase your level of control and competitiveness.
What will the future hold for integrations?
It's always important to think ahead when making decisions around your cloud infrastructure and integrations solutions. Providing yourself with the upmost flexibility is paramount, as is understanding how your contractual relationships with software suppliers and service providers will affect you long-term.
Eventually all the cloud platforms and tools you use will most likely be SaaS and subscription-based. And, the leadership roles above you will want you to be demonstrating how you are promoting the good use of people, processes and data ahead of the software you use. This is because software is - and is further becoming - a quick and easy to change commodity. However, the data you use and the people and teams who need them will consistently go on to shape and mould the success of your business.
Making a decision now which will make shifting more services to the cloud, without disrupting important customer facing services, will pay off greatly in the long term. Once again, providing yourself with the most flexible and well-centralised cloud-based integration services will enable these transitions, as the most modern Service Integration Hubs and solutions can quickly shift connections from one service to the next with minimal or no down time. Something that traditional MSP-led or hand-coded integrations wouldn't enable you to do at all.
Businesses which have future-proofed them sleeve most effectively, to handle fast paced changes into or within their cloud-based ecosystems, are those who have prioritised the connectivity and integration of those services. By simply managing the way things can be changed now, will lay a great foundation for agility and improvement in the future.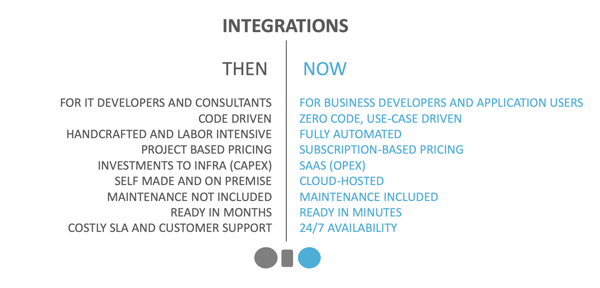 Who is integration service provider?
Integrations are a critical part of digitalization and business process automation. However, often times they are the most fragile part of the process. Typical integration related problems companies are facing:
Limited resources (development and maintenance)
Insufficient knowledge (tools, processes, and integrations)
Lack of time (not your core business anyway)
Bad experience on previous unsuccessful integration projects (we all have)
To tackle these problems companies are turning to Integration Service Providers that can provide not just the cloud based integration platform but also integrations as a service on top of the robust technology. Integration Service Providers are disrupting the integration platform (iPaaS) industry the same way as AWS did for the data centres by moving data to cloud. We see the same happening to integrations (not just platforms) that are moving to cloud.
One of these disruptors is ONEiO. ONEiO is a cloud-native integration service provider connecting people, processes, and tools – enabling seamless collaboration without traditional integration hassle. Provided as a turn-key solution, as self-service, or something in between.
Read more about ONEiO's integration as a turnkey service
Integration Landscape Assessment
If you think owning, coding and maintaining your integrations is not your thing and you feel that you are ready to begin your integration as a service journey or if you would like support in putting together a more strategic approach to integration, or even just finding the language and materials required to make what you want more understandable and useful to the wider business, we'd love to help you.
With our Free and zero-commitment service you will get roadmap how to:
Remove the need to do repetitive and tedious tasks

Continuously improve and reuse your current automations and integrations

Better align your IT and business needs

Support your core business in a better way

Clearly communicate your path into the future

Compare your integration strategy to other organizations

Gain better understanding on cost savings and ROI for your integrations
Download service description for integration landscape assessment (no registration needed)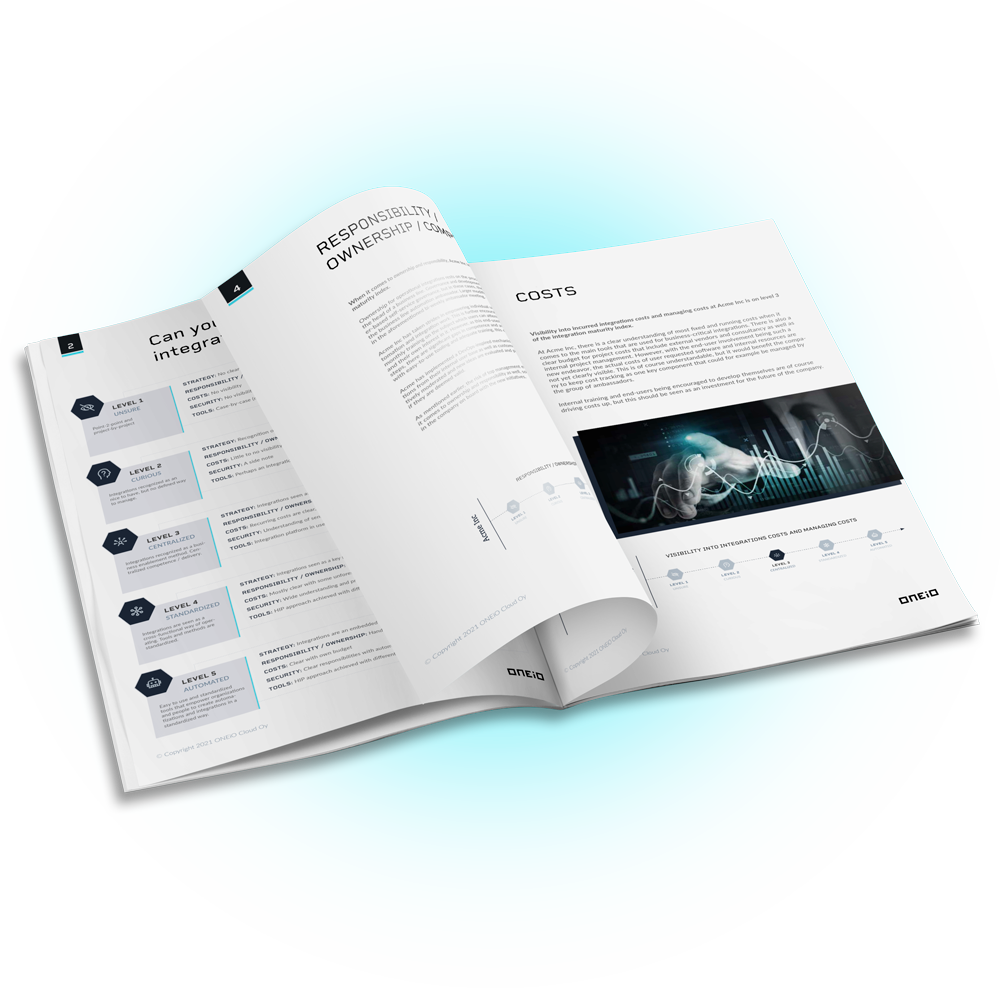 Below you can find a sample report of the integration landscape assessment
Read more: Our way to your success. ONEiO's 3 step journey to bring your integrations to cloud.