In today's fast-paced business environment, organizations must embrace digital transformation to stay competitive. Adopting cloud-based tools and services is a crucial part of this transformation, however, the growing complexity of the IT landscape can cause problems with isolated, disconnected, and inefficient processes.

Service and application integration involves creating seamless connections between multiple teams, tools, and services—both within and outside an organization. This removes communicative and technical barriers, empowering teams to align on processes so that they can deliver services more effectively.

Existing approaches to integration were not designed for scalability in modern IT service ecosystems and this is the primary challenge that integration service providers aim to address.
This guide will explore the most significant challenges faced when integrating services, current integration solutions, and the integration as a service model as a new way forward:
Business Ecosystems Rely On Integration
It's easy to draw comparisons between our economy and a natural ecosystem, where businesses operate as independent entities, exchanging products and services, and interacting with other businesses as well as vendors, clients, and suppliers.
Through these interactions, businesses exchange energy and take part in the life cycles of other entities in the ecosystem. In their article "8 Dimensions Of Business Ecosystems", Gartner state boldly:
"Bottom line: Every organization exists in multiple business ecosystems…dynamic networks of entities interacting with each other to create and exchange sustainable value for participants. The challenge is deciding how your organization will survive and thrive in its ecosystem."
This metaphor plays out on multiple levels. As Gartner elaborates in an article on ecosystem success: each department also behaves like a single actor in a larger company system, interacting with other departments to provide services and contribute to the common business goal.
We consider both levels of the analogy when discussing ecosystems because, regardless of the size of the ecosystem, seamless interaction between entities is necessary for the whole system to "thrive".

To emphasize the importance of seamless interactions between entities, consider the IT service management (ITSM) domain as an example.

IT service providers with a large customer base typically receive requests in the form of tickets, which can originate from multiple sub-departments within a customer's organization. However, when the entities involved in the process cannot interact efficiently due to a disconnected ecosystem, it becomes difficult to respond to these tickets quickly, and no entity has full visibility over the process.

Application integrations power these all-important interactions. When teams and their processes are integrated through the applications they use, the services they provide become integrated to create a single organization that delivers services seamlessly, end-to-end.
In the IT industry, the integration of multiple service-providing teams is known as "service integration".

APPLICATION INTEGRATION FOR INCIDENT MANAGEMENT SERVICE DELIVERY


Common Integration Solutions
Although there are a wide variety of integration models, methods, and platforms available, many of them are scale-specific or designed for particular services and applications.

This is not an exhaustive list of the solutions that exist for performing application integration, but the following solutions are common:
As a side, we compare each of these methods in more detail in our blog series, choosing an integration solution:
Integrations are typically implemented by IT professionals using one of the above methods, however, all of these methods were developed with a different perspective on the problem, in a different technology landscape, and with varying use cases in mind.
Although it isn't a technology for building application integrations, outsourcing integration projects to an integration service provider stands out among the alternatives because it addresses some of the key issues raised by these projects, especially when undertaken by mature organizations and IT service providers.

The Pros & Cons of Common Integration Solutions
The below table intends to highlight the benefits and shortfalls of common integration solutions, from traditional point-to-point integrations to iPaaS platforms.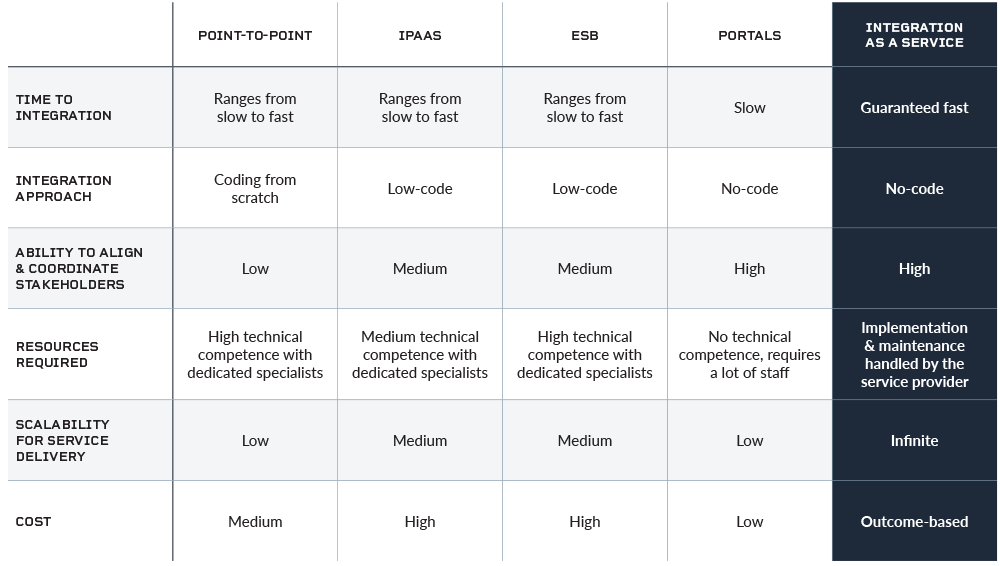 The Most Common Integrations
Although a business must reach a certain level of maturity before sophisticated service integrations become truly necessary, the majority of modern businesses can benefit from some level of system integration.

Here are some common integration needs which emerge:
The IT service organization wants to enforce the use of its IT service management software on teams across a mature organization.




An enterprise wants to centralize ticket management from multiple vendors using various tools.
They don't want to enforce a particular system on these vendors.



An external IT services provider requires that all systems in use within an organization are governed by a single access control system on their side.
Whilst it's easy to understand the value of connecting one tool to another at a surface level, companies that embrace "ecosystem thinking" tend to look at integration strategies on a business-operations level.

This involves a careful look at the interplay between departments, tools, and processes used across and between entities in a company ecosystem, in both internal and external teams.

Here are some practical examples of these more complex integration scenarios:
A major retailer uses POS machines in branches across the country that collect and send data to multiple parties, from maintenance departments to head office business services. All of this data must be routed through the IT services team.





An aviation logistics company needs seamless, reliable communication between systems and teams to deliver services effectively. The IT organization of the logistics company has to comply with whatever practices and processes are instilled by the airports and airlines to provide end-to-end service reliability.





Large IT organizations are increasingly outsourcing services to multiple suppliers. This "

multisourcing" model, coupled with the increasing use of cloud-based services, leads to large management overheads, decreased control, and low visibility. Integrations are pivotal in the success of this operations model.



What is Integration as a Service?
Integration as a service is a service delivery model where customers—typically large enterprises or IT services companies—outsource integration projects to a service provider who offers detailed integration design and implementation services that link application functionality and/or data with each other and incorporate this into the established IT infrastructure.

The integration as a service model allows businesses to outsource the entire integration pipeline, from planning to delivery to maintenance, as well as the associated risks. This means that businesses no longer need to develop and maintain their own integrations and can focus on improving the services they offer.
The companies operating in this delivery model are very different, as discussed later in this guide.



Who is Integration as a Service For?
The integration as a service model serves both enterprises with a sufficient need to integrate multiple services and IT service providers who recognize the difficulty in rolling out and scaling integration solutions to their client's systems.

These enterprises tend to be more mature businesses with many moving parts, multiple operating locations, and deeply-rooted legacy systems. Also, IT service providers with sophisticated ITSM practices often require a systematic method of delivering integrations to their clients—this use case in particular fits the integration as a service model.
Furthermore, any IT business that uses the SIAM® approach to deal with the downstream effects of a complex "multisourcing" operating model should be able to see the benefit of purchasing the integrations they require through a service provider.

When you outsource integration projects you outsource the risks but, more importantly, there are also many unique benefits to outsourcing projects to an integration service provider that you don't get with any alternative solution.


The Benefits of Integration as a Service
Even when IT teams are fully capable of managing application integrations, the projects are difficult, hampered by lengthy timelines, unclear budgets, heavy outsourcing, and enormous support agreements that account for the fragile connections being built.

The key benefits of the integration as a service model are its scalability, repeatability, and outcome-based pricing.
Handling integrations through an integration service provider gives customers clear, consistent, and repeatable outcomes which don't suffer from the case-by-case complications which arise in typical integration projects.
The full service is handled from top to bottom by experts in integration who employ ecosystem thinking to help diagnose and remove sticking points between services in an organization.
With no barriers to service delivery, delivering new products, features, and value to staff and customers alike is seamless, giving integrated ecosystems a significant competitive advantage.

As a result, both enterprises and IT service providers can move away from seeing integration projects as a necessary evil, but as an opportunity.


How is Integration as a Service Priced?
Much like the software as a service (SaaS) model, the integration as a service model aims to bring a solution to market for a subscription fee, rather than a one-off cost.

Currently, integration solutions typically come in packaged deals where pricing is generally influenced by:


Time to implementation


Staffing considerations


The scope of the integration functionality


Tool and platform choice



Maintenance/upkeep costs

As the effort to create manual integrations is reduced, the cost of delivering those integrations decreases. This allows integration service providers to offer subscription-based pricing where users pay for the outcome, not the effort in reaching it.
Another significant benefit to subscription-based pricing is that you only pay for what you use. When you buy integrations as a service, you're purchasing the outcome—not the technical solution.


What is an Integration Service Provider?
The companies operating in the integration as a service delivery model are integration service providers. An integration service provider sells integrations as a solution, packaged as one or several connections, or as an ongoing service.

Integration service providers set out to address the following problems that organizations face when tackling integrations:
Insufficient knowledge & resources:


service integration projects are costly, unnecessarily complex, and timelines are unpredictable.





Technical capacity and complexity:


integrations (and thus service implementations) are characterized by manual work and technical complexity.



Accountability:


in service implementation projects both staffing and clearing responsibilities are complex and hard to optimize.


Lack of repeatable processes:


every service integration is highly custom, making it almost impossible to create an easily repeatable, standardized process.





Vulnerability:


broken integrations can lead to the loss of important data and underdelivering on SLAs. Even more, fixing broken integrations is a costly and complex undertaking that binds important resources.



Are All Integration Service Providers The Same?
Various services are offered by integration service providers; from bespoke, point-to-point application integrations, to fully-automated, cloud-native, turnkey solutions which businesses can use to scale their own IT service management ecosystem (like ONEiO).
Some integration service providers are middlemen, project-managing integrations and passing the work on to teams who build the integrations point-to-point—others build integrations on top of an iPaaS platform.

As an integration solutions company, ONEiO has developed an integration-automation platform that runs on top of proprietary technology. Our solution is the combination of cutting-edge tech and years of experience within the ITSM domain.
Our integration automation platform offers instant connectivity and communication with popular tools such as ServiceNow, Zendesk, and Jira. We also have a streamlined process for adding new tools to the platform within two weeks. Our platform operates on the cloud and maintains 100% uptime to ensure seamless integrations.
We don't just deliver application integrations at scale via the cloud. At ONEiO, we work closely with businesses and IT service providers to identify service integration opportunities within their organizations.


Our standardized approach follows a clear lifecycle:
First, we work with you to map out your service delivery landscape and identify the systems and processes that need to communicate.


Next, we prioritize the integration of systems that have the most impact on your service delivery to kickstart your ecosystem.


We then automate the communication process using our rule robot, which establishes the correct communication rules based on the processing logic we agree on.


The result is a fully integrated ecosystem, with real-time monitoring of communications. Customers can add any tool or service to the ecosystem, equipped with the knowledge that it will work seamlessly with their existing systems.


The Integration Landscape Assessment
We've mentioned a few times already that integration service providers work with companies to diagnose process blockers between entities in the business ecosystem, whether they are external operators or internal teams. At ONEiO, this process begins with an integration landscape assessment.

In this assessment, our expert services team works hand-in-hand with customers to determine how together we can:
Remove the need to do repetitive and tedious tasks.

Improve or reuse current automation workflows and integrations.

Better align IT with business needs.

Help IT support the core business functions in a better way.

Create an integration road map.

Compare your integration strategy to other organizations.

Gain a better understanding of cost savings and the ROI integrations bring.

Through this process, integration service providers help customers release the profit potential that's locked within inefficient processes and help them build a healthy business ecosystem.