Throughout our Outsourcing 101 series, we've spoken in depth about all things IT outsourcing: from which services should be outsourced, how to select the right vendor for your business, and how to manage your vendor relationships effectively. So by this point, it should be clear that outsourcing some or all of your IT services can be a smart and strategic move for your business.
Managing and maintaining IT infrastructure, processes, and competitiveness can be challenging and costly for businesses.
This article looks at how outsourcing non-core IT services, specifically through a best-of-breed approach, is an effective way to achieve best practices (in other words, modern, scalable, and competitive IT services) while reducing total costs.

This article is a part of our "IT Outsourcing 101" series. For more posts like this, head over to our blog.
Other articles in this series:
What is a best-of-breed approach to IT outsourcing?
A best-of-breed approach to IT service management refers to the practice of selecting and implementing the best possible solution for each specific IT service management function, regardless of whether the solution comes from a single vendor or multiple vendors.
Rather than adopting a one-size-fits-all solution from a single vendor, a best-of-breed approach allows organizations to choose the most suitable solution for each specific IT service management function, such as incident management, cloud infrastructure, network management, cyber security, and more.
This approach is only becoming more relevant for enterprises, with 59% of procurement functions indicating they would target a best-of-breed approach to technology last year.

This approach can result in a more tailored and effective IT service management system, as each solution is chosen for its particular strengths and capabilities.
However, without plans to build an integrated vendor ecosystem, it can also require more effort in terms of integration and management of multiple solutions from different vendors — but we'll get to that part a little later.
Alternatives to a best-of-breed approach
Building out internal capabilities
Building an in-house IT powerhouse, when done effectively, can achieve best practices in many areas of IT service management. We're not here to disprove that at all. However, businesses must weigh up the costs and benefits of an in-house approach, as opposed to outsourcing.
For fairness' sake, let's go through a few reasons why you would want to build out your IT service management ecosystem in-house:
There is a single point of accountability for all of your IT services
There is no loss of ownership or feeling of control over your IT services
There is no need to manage multiple vendors or integrate services (only tools)
You can customize to exactly the requirements of your organization without having to compromise
Buying multiple or all outsourced services from a single vendor
There are plenty of vendors who can do it all — or at least they try do it all — but with limitations (scalability, expertise, cost or agility).
Some issues with choosing a single vendor to provide all outsourced IT services include:
Vendor lock-in: Vendor lock-in is a situation in IT outsourcing where a company becomes dependent on a particular vendor for the products or services that they provide. This can occur when a company enters into a long-term contract with a vendor and switching to a different vendor becomes prohibitive.


Lack of expertise: When a vendor offers everything, it's unlikely that they can do everything (particularly solving complex use cases) extremely well. This can lead to subpar service and inadequate support, which can negatively impact your business.


Limited options: By selecting a single vendor, you may be limiting your options for innovation and growth. Specialized providers often offer unique and customized solutions that can help you stay competitive and agile.


Higher costs: A single vendor may charge higher prices for adding extra services, compared to specialized providers. This is because they (in a way) have a monopoly on your business and can charge premium rates. Additionally, the lack of competition can make it difficult to negotiate favorable pricing.


Risk concentration: By relying on a single vendor for all IT services, you are concentrating risk. If the vendor experiences an outage or a security breach, your entire IT infrastructure may be impacted. This can lead to business disruption and financial losses.
Why best-of-breed suppliers are essential for achieving best practices in IT services
Just quickly before we continue: what do we mean when we say 'best practices' in IT service management?
According to Gartner, best practices can be defined as "a group of tasks that optimizes the efficiency (cost and risk) or effectiveness (service level) of the business discipline or process to which it contributes. It must be implementable, replicable, transferable, and adaptable across industries."
In other words, it means the most effective way to reach the best possible outcome.
Outsourcing IT services to the best-of-breed suppliers is essential for achieving best practices in IT services. Best-of-breed suppliers are experts in their domain and can provide specialized skills and expertise to meet the unique requirements of businesses. Outsourcing to these suppliers can improve service quality and efficiency while reducing costs through economies of scale.
Access to specialized skills and expertise
Outsourcing to best-of-breed IT suppliers provides businesses with access to specialized skills and expertise that may not be available in-house. These suppliers have a team of experts who are knowledgeable in the latest technology trends, tools, and best practices. As such, they can provide businesses with customized solutions that meet their unique needs and requirements.
Improved service quality and efficiency
Service quality and efficiency are often dramatically improved by outsourcing to a best-of-breed IT vendor. These suppliers have a proven track record of delivering high-quality services and use the latest technology and tools to improve efficiency. By outsourcing IT services to these suppliers, businesses can focus on their core competencies and leave the IT infrastructure management to the experts.
Reduced costs through economies of scale
Outsourcing to best-of-breed IT suppliers can also reduce costs through economies of scale. These suppliers have the resources and infrastructure to manage IT services for multiple clients, resulting in reduced costs for businesses.
Additionally, outsourcing eliminates the need for businesses to invest in expensive IT infrastructure, equipment, and staffing (by either technical specialists or up-skilling their internal IT team).
How to identify and select best-of-breed IT suppliers
It's usually pretty clear when an IT service provider specializes in a particular area: it's on their website tagline, their customer references, and their service pages.
But to find a best-of-breed supplier, you need to critically analyze this along with a few other factors:
What tools and services do they use internally?
If a cloud service provider uses an ITSM tool built for cloud service providers, that's a good sign, as well as if they invest heavily in tools and services specifically related to those they provide to customers. It's like a marketing agency having a free tier of an SEO or analytics platform — it doesn't exactly scream trust, right?
Are they featured in specialized industry news?
For example, if a cloud services provider that you're considering partnering with is featured in IT news for their work in cloud services, or they've won industry awards, this is a good sign.
Do they write or talk about industry best practices, and stay at the forefront of new trends and research?
Check out the company blog and the LinkedIn of key personnel — what do they talk and write about? Also, consider which use cases they feature in their customer stories.
What do their reviews mention on third-party websites?
Third-party websites like G2, Capterra, and TrustPilot can give you an idea about the services a vendor is actively providing to their customers — and how successfully.


How scalable is this provider for the use case you need them for?
Supplier agreements are often made (particularly with full-service or all-in-one service providers) without considering future use cases and whether the vendor can scale a particular service when the business grows or expands into new territory. If we take our cloud services example from above — how scalable are the providers they use (Azure, GCP, AWS) and how experienced is the provider in delivering cloud services at scale?
Once you've considered the points above, then comes the task of actually selecting a vendor.

Luckily, we've already created a how-to for selecting an IT vendor — you can find it here.
How integration can help you streamline the supplier selection process
When working with multiple vendors, they'll likely have to interact with you at some point. IT services don't exist in a vacuum — they're all connected in some way or another.
Whether it be two teams working on a support ticket, coordinating server maintenance, or any IT-related tasks, things are much easier if the vendors can easily and seamlessly work together.
But how do you make that happen?
As you can probably guess: integration.
You could, of course, restrict yourself to companies with the same tools and processes as you, or insist that all of your suppliers and vendors use the same ITSM tools, network management tools, and communication tools — but is it realistic to ask others to adapt to your ways of working, especially when it might mean they have to work in a sub-optimal or inefficient way to provide you service?
How does integration between vendors usually happen?
The popular alternatives include using portals, corporate iPaaS platforms, or building point-to-point integrations, but as we've outlined in our Choosing an integration solution series over on the ONEiO blog, these alternatives aren't always fit for purpose.
And in most enterprises, regardless of the integration method chosen, the need for a service integrator arises. In other words, a layer between the enterprise IT team and its functions, and the external vendors and suppliers who provide outsourced IT services.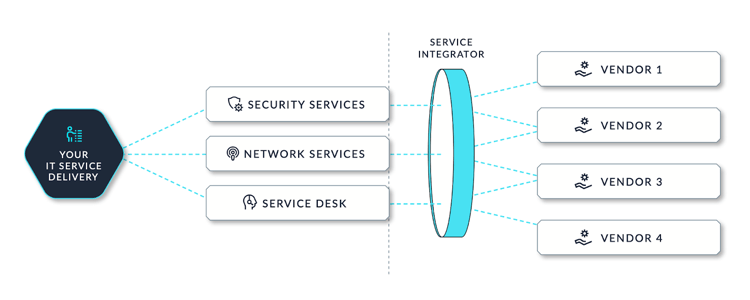 When an organization chooses to act as its own service integrator, it takes on the responsibility of coordinating and technically implementing service integrations to its multiple vendors.
While this approach does provide a high degree of control over the process (control being one of the top reasons why companies don't want to outsource IT services) it requires significant internal resources and expertise for managing relationships with vendors, ensuring service levels are met, and promptly addressing any issues that arise.
In addition, if the organization wants to eliminate manual workflows by implementing system integrations, it must build and maintain these integrations internally, further increasing the workload and expenses.
At the end of the day, being a service integrator is rarely the core business of an enterprise, in which case, that part of the coordination and orchestration can and should be streamlined.
How our customers integrate using ONEiO
Not all external integrators offer the right solution for organizations looking to optimize the management of multiple IT vendors. What they need is an integration solution that facilitates collaboration between vendors and clients, increases end-to-end service visibility, and helps the retained IT organization orchestrate services effectively.
ONEiO is a specialist integration service provider that delivers turnkey integrations using cutting-edge technology for the next generation of IT services. With standardized integration delivery and uniquely-modular integrations, ONEiO's proprietary integration solution provides a bedrock for organizations to develop the key capabilities required for SIAM success.
Visually, it looks a little like this:
Guided by the principle that organizations should retain the ability to orchestrate their IT services, the ONEiO vision for the future sees an interconnected ecosystem of enterprises and service providers employing and deploying best-of-breed solutions to deliver value.
Underneath it all is the ONEiO integration layer, connecting systems discreetly, efficiently, and with certainty.