Outsourcing IT services has become increasingly popular among businesses of all sizes, with an estimated 92% of G2000 companies using IT outsourcing in some capacity. These days, IT outsourcing is so much more than a simple cost-reduction technique — companies have begun to realize the benefits of outsourcing key IT services to specialist providers in an effort to focus on their core strengths and business growth.
Now, while outsourcing reduces the strain on an enterprise company's retained IT team, it does require dedicated work in managing vendor relationships, a critical aspect of ensuring the success of IT outsourcing. And as you add more service providers to your IT service delivery ecosystem, the way you manage vendors becomes even more important.
Managing vendors is an ongoing process when you outsource services. To succeed in your outsourcing strategy, vendors must operate like an extension of the internal IT team, presenting a united front and a single business-facing IT organization.
In this blog post, we'll delve deeper into best practices for managing your vendor relationships and how you can successfully build and manage your own multi-vendor ecosystem.
This article is a part of our "IT Outsourcing 101" series. For more posts like this, head over to our blog.
Other articles in this series:
Defining the vendor relationship
Defining the goals and scope of the vendor relationship is the first step in managing vendor relationships. As with any business service relationship, it's important to clearly understand the services the vendor will provide and the goals of the collaboration. Setting clear expectations for both parties helps make sure everyone is on the same page, including expectations around communication, deliverables, and timelines.
Let's say you're outsourcing your IT support services to an external vendor. You would want to clearly define the goals in writing and not provide abstract statements. For example:
Reduce ticket resolution time 🚫 – Reduce ticket resolution time by 20% in 3 months ✅
Improve customer support rating 🚫 – Improve customer support rating to 8/10 by month 6 ✅
Improve documentation 🚫 – Ensure 75% documentation coverage of IT support areas ✅
Reduce time to first contact 🚫 – Reduce time to first contact from 2 hours to 30 minutes ✅
It is also important to acknowledge the differences between vendors and build mutual understanding. Vendors have their own culture, processes, and business goals. Understanding these differences can help you manage vendor relationships more effectively. Building mutual understanding can help create a more collaborative and productive relationship.
In a multisourcing model, there will be crossover and, potentially, collaboration between vendors. Vendors do, can, and should be able to work how they like (i.e. work with their own tools and systems to deliver services how they see best), and as an organization, you stand to benefit by facilitating that collaboration.
Suppose the same company wants to buy cloud infrastructure services from company X, and cybersecurity services from company Y. It's likely there will be some level of collaboration needed between them, and with a well-structured integration strategy (we'll get to that a little later) all parties can remain working with their own tools and systems. In this case, the company's overhead of managing vendors would decrease as vendors and suppliers can seamlessly communicate and collaborate with each other.
What happens if this type of collaboration doesn't exist or fails?
In short, companies risk losing the ability to orchestrate the IT services they rely on.
Picture a conductor trying to direct an ever-expanding orchestra. Every time a new player enters the symphony, it's the job of the conductor to make sure they play in harmony. Now imagine the conductor trying this without the sheet music—this is what it's like trying to manage vendors without a clear overview of what they are supposed to be doing.
Best practices for vendor relationship management
Regular communication and collaboration
Like in any other relationship, the ability to communicate your needs, expectations and feedback in an effective, timely manner makes vendor relationship management much more simple — at the end of the day, you're people dealing with other people.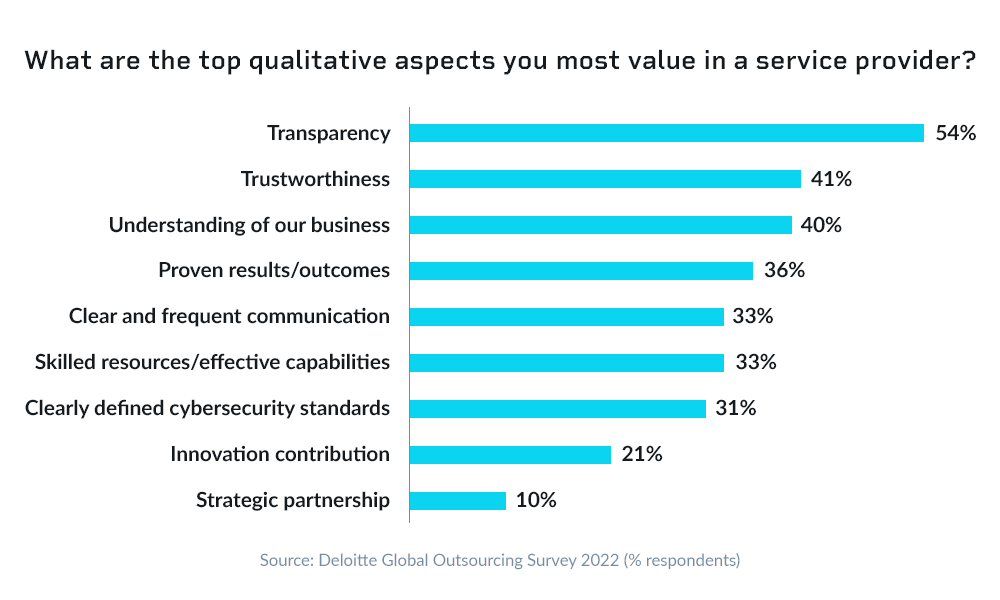 Unsurprisingly, a report by Deloitte found that communication-related factors made up three of the five most valued qualitative aspects of a service provider.
Establishing effective governance and decision-making processes is also important. Organizations should have clear processes in place for decision-making, issue escalation, and risk management.
Managing risks and conflicts
On the topic of risk: No business partnership exists without an element of risk. Thus, organizations should proactively identify and manage risks related to the vendor relationship. This includes risks related to the vendor's performance, security, and compliance.
Ensuring vendor accountability and performance measurement
Organizations should have clear metrics in place to measure the vendor's performance. This includes metrics related to service quality, timeliness, and cost. Having clear metrics in place can help organizations identify areas for improvement and hold vendors accountable for their performance.
Vendor performance management (VPM) is its own standalone discipline, and for good reason: The performance of your supplier and vendor relationships can make or break your business.
Negotiating contractual agreements
Contracts are the least sexy part of most business cooperations. However, they're one of the most important to get right. Not because you have to deal with them on a day-to-day basis, but because of the insurance they provide when and if things aren't going according to plan.
It's important to ensure that the contract is fair, reasonable, and protects the interests of the organization. Here are some key considerations to keep in mind when negotiating IT vendor contracts:
Scope of work: The scope of work should be clearly defined in the contract, including the specific products or services to be provided by the vendor. Ensuring that the scope of work aligns with your organization's needs and goals is important.


Payment terms: The payment terms should be clearly outlined in the contract, including the total cost, payment schedule, and any penalties for late payments. The payment terms should be clear, fair, and aligned with your organization's budget.


Service level agreements (SLAs): SLAs should be included in the contract to ensure that the vendor provides the required level of service. They should include measurable metrics and consequences for failure to meet the agreed-upon service levels.


Intellectual property (IP) rights: The contract should clearly outline the ownership of IP, including any work product or deliverables created by the vendor, as well as negotiating fair IP rights that protect the interests of both parties.


Termination clauses and exit strategies: Ending a relationship with a vendor shouldn't be a daunting, terrible process — companies grow and change and sometimes outgrow or develop in a different direction from their current service providers. For this reason, exit strategies are also important when negotiating vendor contracts, as they clearly define the process for terminating the relationship with the vendor. Effective exit strategies should be clearly defined and agreed upon by both parties before the contract is signed.


Data privacy and security: The contract should include provisions for data privacy and security, including how the vendor will handle sensitive data and comply with applicable laws and regulations. Consider where data is stored and whether the vendor has the relevant certifications (e.g. ISO27001).


Liability and indemnification: The contract should clearly outline each party's liability and include indemnification clauses that protect both parties from losses or damages caused by the other party.


Non-disclosure agreement (NDA): To ensure confidentiality and protection for both parties, a non-disclosure agreement should be drawn up and agreed to. Generally, NDAs

are put in place that sensitive information (like customer or employee data) your vendors may need to access or use in their work will not be made available to others.
As well as the technical details, it's important to understand the vendor's business model well, and ensure that the contract terms align with the goals for the collaboration.
Working with multiple IT vendors
Managing multiple vendors in IT outsourcing can be challenging. Organizations need to coordinate and manage the activities of multiple vendors, which can be complex and time-consuming. However, there are best practices for managing multi-vendor ecosystems that can help you achieve the time and efficiency gains of outsourcing without the extra overhead.
One best practice is to establish clear roles and responsibilities for each vendor. This includes defining the scope of work for each vendor and ensuring that each vendor understands their responsibilities. Establishing clear communication channels and governance processes to manage the relationship between multiple vendors is also important.
Common challenges in multi-vendor environments
It's more likely than not that enterprise companies will have to deal with multiple vendors for their IT services. The challenges we've heard of and seen ourselves from our industry experience and from ONEiO customers generally boil down to four areas:
Aligning scope and specifications across provider contracts
Contracts and service levels are often unaligned and fragmented
Service levels need to be consistent across contracts
Scope misalignment introduces a potential for conflicts
Parties often fail to define contracts well
Managing relationships and collaboration with and between providers
Providers delivering interdependent services need to collaborate
Outsourcing is a competitive business and can lead to hold-ups, tensions, or withholding of information
Differences in geography, language, standards, and legal norms can exacerbate collaboration issues
Defining standardization and modularization
Service components need to be appropriately standardized and modularized for integration
Interactions between services must be controlled to enable effective coordination
Providers increasingly shift responsibility to the client to integrate proprietary offerings
Measuring services end-to-end
Difficulty in measuring each provider's contribution to multi-sourcing services
Lack of observability and verification makes defining concepts for measuring difficult
Inappropriate measure points hinder incident identification and resolution
Finger-pointing is a common issue in multi-sourcing
The role of integration in a multi-vendor environment
As an Integration Service Provider, we're uniquely positioned in a way that we understand the challenges of a multi-vendor environment from both the enterprise and the service provider lens.
Without integrating your ITSM tool with your vendors' services, it's next to impossible to gain a holistic view of their performance.
To solve this problem, enterprises have often been faced with a mix of passable, but not built-for-purpose integration solutions to manage multiple external vendors: Point-to-point integrations, iPaaS, or using portals and adapting to other parties' tools.
However, we do things a little differently at ONEiO.
ONEiO provides a secure, reliable, and always-on integration service. When integrations are delivered in a set time frame and at a fixed price, you can eliminate the challenges that come with traditional integration projects and gain a significant competitive advantage.
Spaghetti architectures connected by flimsy point-to-point integrations are unmanageable in a multi-sourced IT landscape — as are the lengthy and costly integration projects they create.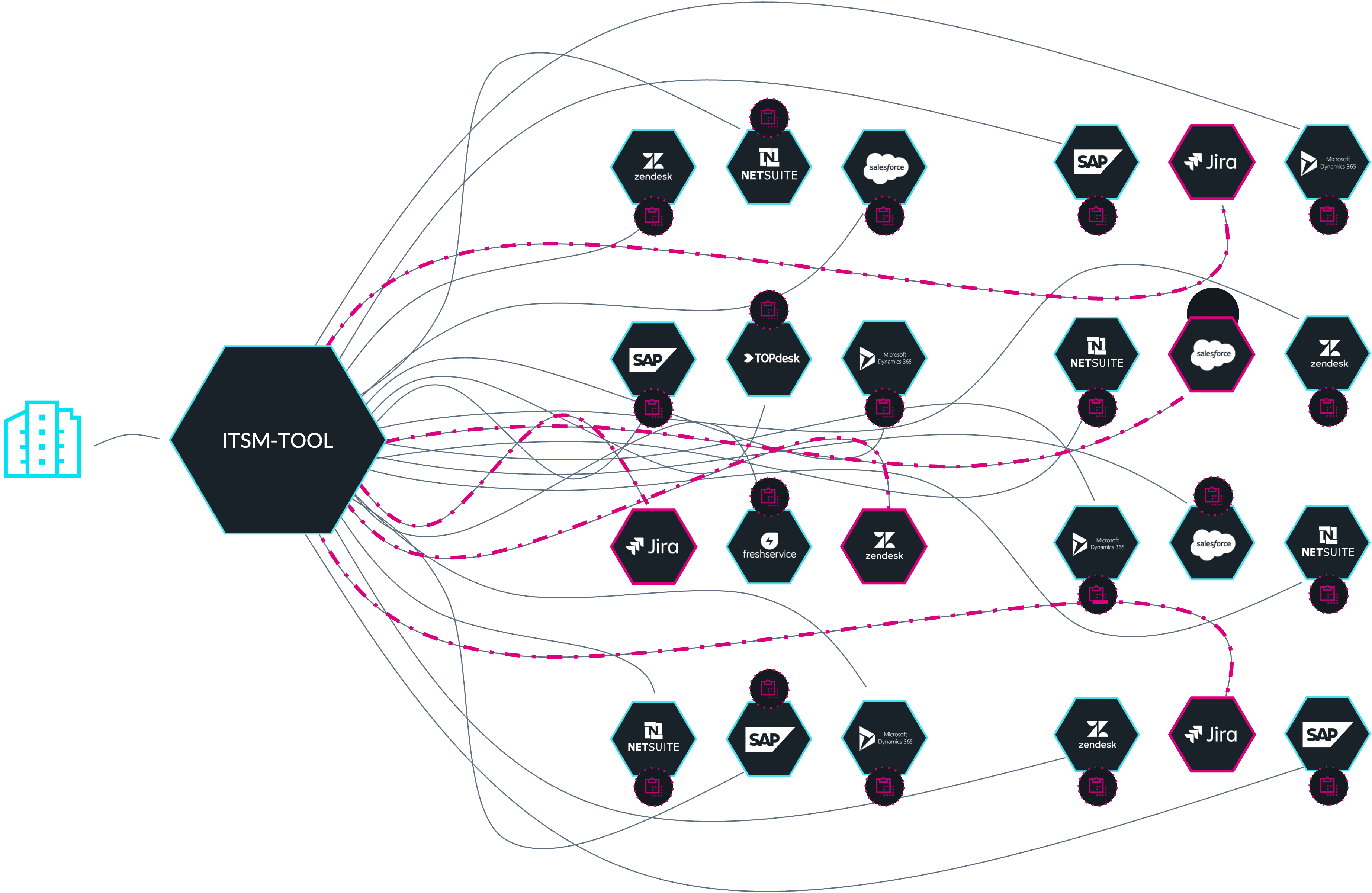 The standardization and modularity of the ONEiO approach are best suited to expansive integration needs requiring repeatable outcomes. And in this scalability, the ONEiO integration solution helps organizations build an integrated IT ecosystem that's ready to adapt to the changing IT landscape.

Conclusion
Effective vendor relationship management is critical to the success of IT outsourcing. By following best practices, organizations can establish successful, long-term relationships with IT vendors, which can lead to improved service quality, increased efficiency, and reduced costs.
Managing multiple vendors in IT outsourcing can be challenging, but best practices such as establishing clear roles and responsibilities and integrating vendors with your own ITSM tools and practices can help organizations manage vendor ecosystems more effectively.
Finally, negotiating contractual agreements that align with the vendor relationship goals, and incorporate effective SLAs and exit strategies is essential to managing vendor relationships. By following these best practices, organizations can build successful and long-lasting relationships with IT vendors and achieve their outsourcing goals.