Application integration has traditionally been seen as an IT thing. However, in modern day businesses, the role of 'the integrator' has rapidly transcended across the whole workforce. Sales, marketing, HR and IT alike are all now integrators. They all have tools and software to use and they all want to have the freedom to use those tools effectively.
Integration is a huge part of the puzzle, especially when it comes to making sure each team has autonomy over their software selection. However, it has to happen in a way which retains an overall approach to software that works for the business as a whole. This article breaks down some of the core principles of modern application integration and talks about how that can be utilised in a number of different departments around the organisation.
Table of contents
How To Create An Application Integration Ecosystem?
Sales, Marketing, HR and IT all have tools, which they use to carry out their work. However, in order for these teams to work well together and collaborate on business-wide activities, their tools need to be quick and easy to integrate.
"Every person, team and department in a business needs and deserves freedom and control over their tools. Software is the heartbeat of every team's ability to be at their best and do great work for their customers. In 2022 and beyond, it is now more important than ever that integration is easy and affordable. But on top of this, integration MUST support every individuals' needs when it comes to the software they use to do their job well"

Juha Berghäll, CEO of ONEiO Cloud Oy
Explaining Application Integrations
The past 5 years have seen a huge lift in the amount of software businesses use to get work done. But on top of this, we have also seen this shift make its way out of the IT department and into the rest of the business. These days ANY person or team can select and implement software, with little or no help from IT.
This rise in the volume of software in combination with the ease of adoption, has also increased another big need… which is Software Integration. Application integration in its simplest form, is sending information from one system to another. This could be done manually, by literally copying & pasting data from one place to another (arguably not an integration). Or in a highly automated and real-time way. We typically like to get integrations looking like the latter, so that we can get on with our work. Safe in the knowledge that the applications we are using are doing the hard work for us.
Although anyone can pretty much buy, implement and use software now, getting the integration bit right has often needed IT or outside help, which for many businesses presents quite clumsy and debilitating obstacles. However, with the latest boost in Next Generation Integration tooling and Integration Automation platforms, this is becoming a lot easier!
Read more: iPaaS is obsolete. It's time for the next generation
What are the Most Common Application Integrations?
Across the whole business ITSM and Enterprise IT applications tend to be the most commonly integrated tools. However other functions and teams are quickly catching up. According to the latest Integration survey: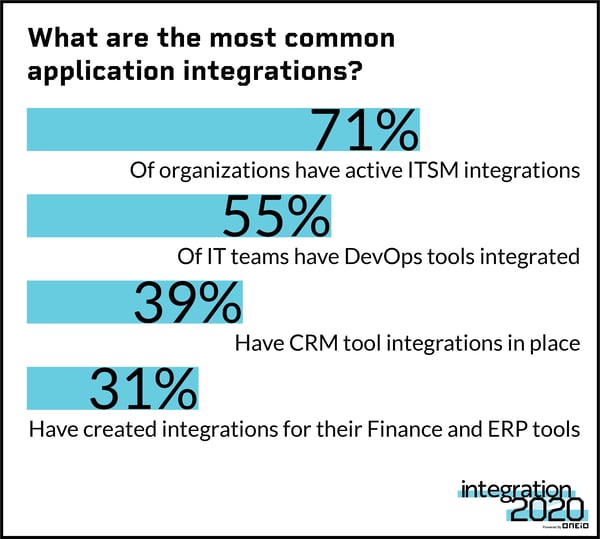 What and Who is a Citizen Integrator?
Citizen Integration is often used as a term to describe how teams such as sales or marketing will adopt integration solutions with the support of the IT team. Typically, a 'citizen integration' is a software integration created by an end-user without needing to rely on tools such as API's or customizable code.
We are seeing more and more businesses adopting this approach to no-code integration, so that they may streamline their service improvements and place the betterment of collaboration in the hands of those actually doing it.
For example: This might look like a Service Desk analyst creating their own integration between ZenDesk and Slack or alternatively ServiceNow to MS Teams for better incident management and to communicate with other team members faster and avoid "swivel chair" and "copy/paste". Or perhaps a sales executive integrating their CRM to their Lead Generation tools, in order to remove the duplication of contact information. Many tools offer this as a service from within the application, but this can present challenges to the wider organisation, especially those that value having a more uniform, scalable and transparent approach to integration.
Read more: Microsoft Teams ServiceNow integration for better incident management
As a result, more businesses are now investing in Next Generation IPaaS / Integration Automation platform designed for citizen integrators for the purpose of passing on integration opportunities to a wider range of non-technical people and teams.
Read more: Introduction to citizen integrator
When Would You Use and Ad-Hoc Integration?
Traditionally integrations are seen as long, costly and boring projects. However, with the shift to end-user or citizen-led integrations, we are seeing a big change in the way teams approach this kind of work. As result, integrations can be done with little planning, testing or consulting. We call this 'ad-hoc integration'.
When you take an ad-hoc approach to integration you can do away with the long timelines, project meetings and integration mile stones. And instead, focus on setting these up quickly and easily, as and when they are required. Not every integration may well be perfect from day one. However, with the right tools and method in place, you can iteratively improve and mature each and every aspect of these integrations.
The important thing is that you made quick work on getting the integration up and running AND you put the control of the integration directly into the hands of the person using it. Organisations who work like this get far great results from their integration investments and from the people who they empower to own these integrations.
For example:
You have just created a new Salesforce Community Group for your customers, and you want any issues or problems raised within the group to have service tickets automatically created in both Salesforce and Zendesk. This is actually something a sales or marketing person could create themselves using simple integration tools. This not only cuts down on the reliance on IT resources but it also means the Community launch itself will happen faster you and your customers!
API Management
Traditionally we would use API's to connect tools together, which in many cases requires some technical knowhow and also some good experience using the API's of the platforms you are trying to connect. When you start using lots of APIs. this can get very confusing at you might choose to use a tool like Zapier, to help oversee them all. However, these tools come with their own issues and problems, especially when you start looking at integrations as something to help connect people and teams, over just clicking pieces of software together.
API's themselves are also a very incumbent and clunky technology. They don't actually offer anything more than a 'channel' to pass data through. You can think of them as a plug and socket, which fit together. But they don't actually have any logic or thoughtful behavior to them, which you might need to determine, how, when and where data moves around your different applications. This creates serious limitations for the people using them. But you can avoid these limitations by skipping over the API's altogether and using smart integration of Next Generation IPaaS tools instead. These tools tend to come with pre-built integrations and require no API work at all to use, which make them perfect for application integrations, which are being setup outside of the IT department!
CRM Management & Marketing Tool Integration
Creating and managing integrations into tools such as Salesforce, HubSpot and Microsoft Dynamics are some of the most common integrations made within the business. This is because they tend to be the heartbeat of the sales and marketing departments and sit at the centre of a much wider suite of software and services.
The more specialist and innovative sales and marketing departments become, the more apps and services they tend to use. This is important because this is how brands become super-competitive and rollout new ideas and campaigns faster than other brands do. However; it comes with a hidden-cost, which is the management of complex software-ecosystems. This is something IT teams have been battling with for a long time and used equally complex integration systems to overcome.
However, in 2022 and beyond, business teams on the ground can implement and manage their own, far more effective integrations in order to make this happen.
We can see sales and marketing teams now holding together really sophisticated campaigns and software stacks, using surprisingly quick and easy solutions. They don't actually want to learn how to use API's or code in order to test out how different marketing tools work together or with their CRM. They also don't want to have to worry about whether their CRM is compatible with the smaller apps when going through their tool selection process.
Read more: CRM to marketing tool and other highly effective business integrations
Using the integration automation tools allows them to skip these steps entirely, using simple dashboards to connect the likes of Salesforce and HubSpot to a huge range of other sales and marketing software in order to give themselves the best possible toolkit for selling and promoting what they do! And instead of having to ask every new software provider… 'is this app compatible with Salesforce' they can instead focus on whether it's right tool for the job, will help them achieve their goals and pass on value to their customers!
Read more: Integrating Hubspot into your sales & marketing apps is a smart move
Service Management Tool Integration
Service management is a hugely important part of the business, which has historically had a lot of influence over how integration is carried out. The goal for Service Management is to create systems where by their ITSM and Service Desk tools can share data, tickets and tasks in real-time, so that a variety of teams can work together on the delivery of Service Desk requests and tickets, without having to gain or 'borrow' access to each other's tools and datasets.
For example: You may have an internal Service Desk using Zendesk, and a third-party using Jira. Without effective Service Integration, these two teams would need to manually pass information across to each other (perhaps by phone or email), then update the records in their own instances of software by hand. This method can create large time delays, inconsistencies in data and even create further incidents when mistakes are made.
Case study: First Orion integrated Zendesk with Jira using ONEiO integration automation platform
Modern Service Integration, provides a real-time and automated set of processes, which means any change made in one system, is immediately replicated in the other system, taking process, policy and context into account.
So, if a service request were to be created in ZenDesk, requesting new accounts and equipment required from the third-party, a ticket would be automatically opened in Jira for those items. When the third party completes the tasks and closes the ticket, those updates are seen in ZenDesk right away. Thus, enabling the two teams to seamlessly work together, transparently and effectively.
Read more about ITSM tool integrations:
HR Tool Integration
Software such as Workday are increasingly being integrated into wider ecosystems of business software, in order to enable better ways of onboarding, managing and supporting employees. HR's ability to work closely with teams such as IT, Finance and management underpins the performance of the whole organisation. However, they have often relied on third-parties and IT for extra support to get the technical side of this work done, so that their own applications may be well-integrated into the rest of the organisation.
Data is also an important currency to HR. Employees have useful and insightful data about themselves stored across a huge range of applications and services. HR often have a big job on their hands collecting up this data so they may manage employee experience, performance and support in the most meaningful ways. However, this collecting process is long and manual. Turning to software integrations has quickly become a fast and effective solution.
HR typically want to take more control of this process and move faster on opportunities they see around the business to provide better internal services and connectivity. Both to their own software and to gain access to wider sets of data from around the workforce, they need to have more control over the integration process itself. This is why many HR teams are now utilising integration service provider such as ONEiO, so that they get their integrations managed from start-to-finish.
Interested in learning more?
Our eBook "An Introduction to Next Gen Application Integration" takes a further in depth look at the topics mentioned here. Request your copy today!