Have you ever tried starting a new hobby? In the beginning, your excitement is through the roof. You look for all the equipment you will need and study the latest and greatest techniques to make sure your new start is going to be a success.

While it might not take the full 10,000 hours to reach a point where you enjoy your newfound hobby, you will likely reach a point in your learning where you are discouraged. Either you get overwhelmed and quit, or you find a way over the struggle. Have you thought of your integration challenges and iPaaS in this way?
The same idea is applied by Gartner in their Hype Cycles. Emerging technologies go through stages where failed experiments and projects lead to diminishing interest, bottoming out at the "trough of disillusionment".
In the latest Hype Cycle for Application and Integration Infrastructure, iPaaS as a technology is climbing up towards the "plateau of productivity", where its benefits are understood and it is becoming a mainstream technology. All while new concepts for integrations like citizen integrator tools, hybrid integration platforms, and digital integration hubs are catching up.

There are many ways to solve your integration challenges. Let's have a look at how a traditional iPaaS stacks up with the ONEiO way.
The Traditional iPaaS Way
Gartner defines iPaaS as:
"A suite of cloud services enabling development, execution and governance of integration flows connecting any combination of on premises and cloud-based processes, services, applications and data within individual or across multiple organizations."
In practice, iPaaS is a platform that includes a set of tools for connecting software applications that are deployed in different environments. iPaaS is often used by large business-to-business enterprises, which need to integrate applications and data, regardless of if they are cloud-based or on-prem. (Source: TechTarget).
iPaaS was the first step taken as an industry towards mass-managing, hand-coded integrations and managing vast numbers of APIs. iPaaS as a solution hasn't changed much and is still software-led, but it is a service heavy solution.
Many organizations using incumbent iPaaS solutions are stuck with messy APIs, expensive maintenance packages, and the ongoing issues of using internal resources to fix, update and manage connections.
The likes of Jitterbit, Dell Boomi, Mulesoft, and Software AG (Built.io) all have their offered solutions to help connect up a wide variety of cloud-based and on-premise technologies. Despite most of these players appearing in analyst reports as leading solutions, Gartner predicts that up to two-thirds of iPaaS vendors will not survive by 2023!
One of the setbacks we have found in even the leading cloud integration solutions is that they are often branded and sold as a 'hub', where everything is managed from a centralized interface. But, behind the scenes, everything is still built upon "point-to-point" integrations and every app uses its own set of rules and processes, which is not good!
Point-to-point integrations are just as fragile as they have always been. As a result, relying on traditional iPaaS significantly prevents your business from achieving any real agility, flexibility, or scalability.
The problem here is that iPaaS is just a technology solution. To build and run robust, care-free integrations, you need much more than technology. Technology helps but is only one tiny part of the equation. In the same way you bought all the latest gear for your new hobby, you still have to learn how to use it.
Read more: Best iPaas software by G2
What is The Next Generation iPaaS?
Enterprise iPaaS bundles a vast set of tools for solving your integration-related challenges. You have all the latest tools to do the job. However, with an eiPaaS you're not buying integrations, you're simply buying a toolkit for building integrations without the need to write it all in code.
Traditional iPaaS tools still need a lot of development work in order for an integration to be built. If you've ever tried painting, a traditional iPaaS is comparable to having a blank canvas with all of the needed paintbrushes and paints placed right next to it. Now you just have to paint the picture.
Even for a seasoned painter, this will take time. With an iPaaS, most integrations have to be created from scratch or outsourced by the supplier to be hand-coded. It can be a lengthy and unpredictable process, hence the equally costly and unpredictable pricing.
If your core business is not to build integrations between your vendors and customers, do you want to start building up the capabilities required to operate such a toolkit? Perhaps you would rather find a service provider, who will either develop for you or manage it entirely as a service for you.
Next Generation iPaaS tools that are truly centralized, automated, code-less, include pre-built integrations and don't suffer from the same problem. Most of the picture is already painted for you, you just have to decide what you want it to represent, i.e. tweak the integration to suit exactly your use case.
This brings a lot of value for your organization:
(1) Pricing can be managed in a far more predictable, transparent and consistent way.
Another huge benefit to subscription-based pricing is that
(2) You will only ever pay for what you use
.
In a traditional MSP or iPaaS environment, you are constantly at risk of paying again and again for legacy integrations or for services that are either under-utilized or under-performing.
Next Generation iPaaS also:
(3.) Removes the need for long and complex implementation projects, which also negates the traditional consultation and setup costs that an MSP or large iPaaS provider might insist upon.
These three important factors of pre-built integrations, low-to-no setup time and a 'pay for what you use' philosophy enable you to shift your IPaaS solution to subscription-based pricing.
Read more: The now and future of integration platforms and iPaaS
A revolution

in integration pricing

Want to learn how to sell the next generation iPaaS to your boss? Or how to reduce 80% of you integration total cots of ownership? Or how to gain 400 times faster time to value.

Find your answers with our register-free TCO Calculator spreadsheet.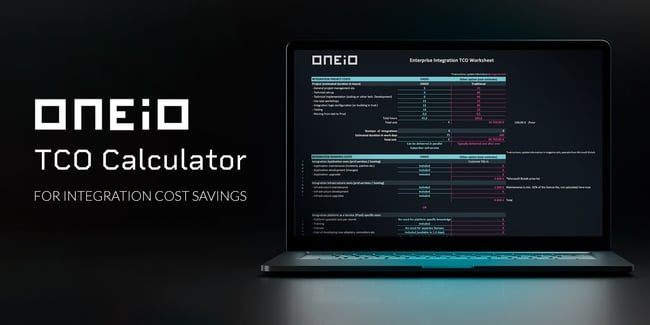 What is the difference between Traditional iPaaS and the Next Generation iPaaS?
The biggest difference between Traditional iPaaS and the Next Generation iPaaS is for whom they are designed for. Using iPaaS requires technical skills, coding skills and a "Do it yourself" implementation.
Whereas the Next Generation iPaaS (or an integration hub) focuses on configuration and process design (utilize). Competition in the iPaaS market focuses on features and the number of apps they can integrate. However, as Next Generation iPaaS doesn't limit itself to 'compatible applications', it instead focuses on simplicity, usability, user experience and the ease of growing your integration ecosystem. It allows you to remain the expert in your domain, instead of having to start learning a new set of skills.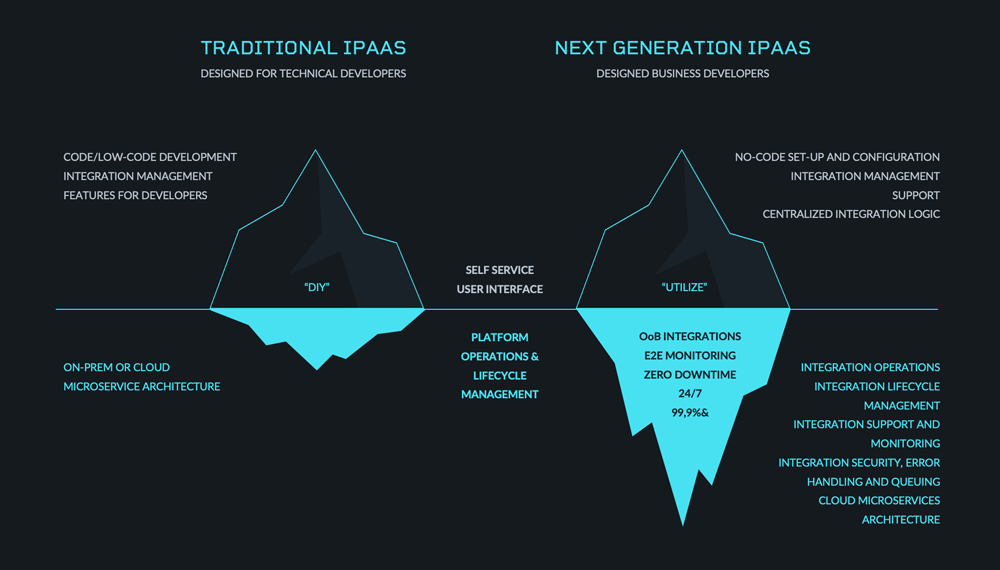 Don't get left behind
If you are not looking to build integrations to be a core of your business, an iPaaS is a long way to reach your goals. After all, you are not trying to learn a new set of skills or start a new hobby, you're looking for a way to reach your outcomes quicker. Integrations just happen to be in the way of that.
At ONEiO, the Next Generation of iPaaS is built on top of our cloud-native Integration Automation Platform and a set of integration expert services. We will help you paint the full picture. Provided as a turn-key solution, as self-service, or something in between. You choose.
If you would like to discuss your ideas, challenges and ambitions for a more connected and integrated business, book an assessment with our expert team of integration specialists today.