Do you struggle to convince your clients to start discussing more effective ways of integrating the tools they use internally, or perhaps even the different tools that you share as part of the b2b service process? Integration projects can bring huge amounts of business value to both you and your clients' IT ecosystems.
B2B integrations allow you to unlock time, efficiencies, and data blocks in your own and your customers' work. As modern integrations come with great automation benefits and new ways to centralize the way data is exchanged between multiple teams and technologies in real-time it opens up a wealth of new possibilities for the organization itself.
From the point of view of integrating your own tools with your clients, suppliers or business partners, the first and finest example is being able to quickly connect your service desk tools to theirs, without having to mess around with APIs and custom code.
This is something that has frustrated MSPs and their clients alike for years, but with modern developments in centralized integration hubs (also known as the Integration Automation Platforms or B2B integration software), this is now actually a very easy implementation.
However, you still need to convince your clients it's worth spending money on! Let's take a look at exactly what is B2B integration and B2B integration software.
What is B2B integration?
Business-to-business (B2B) integration is the business processes automation, connection and communication between organizations. It enables them to work and collaborate more effectively with their partners, suppliers and customers regardless of the tools and applications each party is using.
When customers think B2B integration software or solution, they often think you are just trying to dress up a very manual and laborious project of coding up some API's and pretending it's either more expensive and specialist than it is… or they know what a challenge tying up those APIs can be, and they want to avoid it. To get clients on board, it's far better to approach integration from the perspective of people and process, than it is technology.
By first asking questions around how people work, how they pass information and tasks from one team or function to another, then offering simple multivendor integration solutions to those examples, you can then scale up your explanation of what great service integration could do for them.
Most people quickly confuse software integration and service integration, so by removing technology from the initial discussions you setup a far better opportunity of winning their enthusiasm for a new integration project.
Success story: AHEAD needed a solution that would seamlessly integrate not just ServiceNow and the end-customer, but also their monitoring solution, LogicMonitor
How to easily onboard clients with integration projects
You know what? Modern customer integrations projects aren't even projects at all! They are small incremental changes that improve the efficiency and collaboration of an organization. By approaching this as one application, one process, one set of data and so on… at a time, you can make the overall objective of improving the way people work and work towards over time.
By introducing clients to integration as an agile an incremental change, you can relax the shared pressures of having a glorified end-state and deadline to work to, and instead feature it as more of a retained service, which improves with time.
How to overcome common objections
As mentioned above, many organisations have bad experiences of technical integrations going wrong and having long lasting negative effects. This can be overcome by zooming in on the problems they face and asking pragmatic questions about what sort of integrations they would like to have in place, which actually solve the problem rather than exacerbate it.
From there, you will come across objections such as the project timelines are too long, the outcomes are too unpredictable and the hangovers of 'bug fixing' of failed integrations are too painful.
At ONEiO, our Integration Automation technology allows us to sidestep all these issues as common service provider and application integrations are pre-built, all integrations are configured through an interface rather than with customised code and we use many-to-many connections, meaning that once integration is setup, any number of further b2b integrations can be added any time.
Using case studies of working examples within platforms such as ONEiO, is an excellent way of demonstrating what is possible today and removing concerns created by old fashioned integration methods.
Starting as you mean to go on
As we say, modern service provider and b2b integrations are on-going and incremental. Gradually adding more platforms, more b2b processes and expanding the amount of data and information, which is shared across the ecosystem of a business. Laying out a roadmap, which looks and feels more like a growing approach to improving the way the client's business is FAR MORE appealing than yet another project plan for something that may or may not work.
Focus on easy wins early on that quickly enable people in the businesses to work faster and smarter, then presenting back an approach you would like to use to scale up that success is a great way to impress a client.
The Best Practises and roadmap to be a successful Managed Service Provider
1. Start from your internal processes
2. Integrate with your customers' tools (b2b integration)
3. Standardize your way of onboarding customers
4. Publish your endpoint type to ONEiO for easy integrations for current and coming customers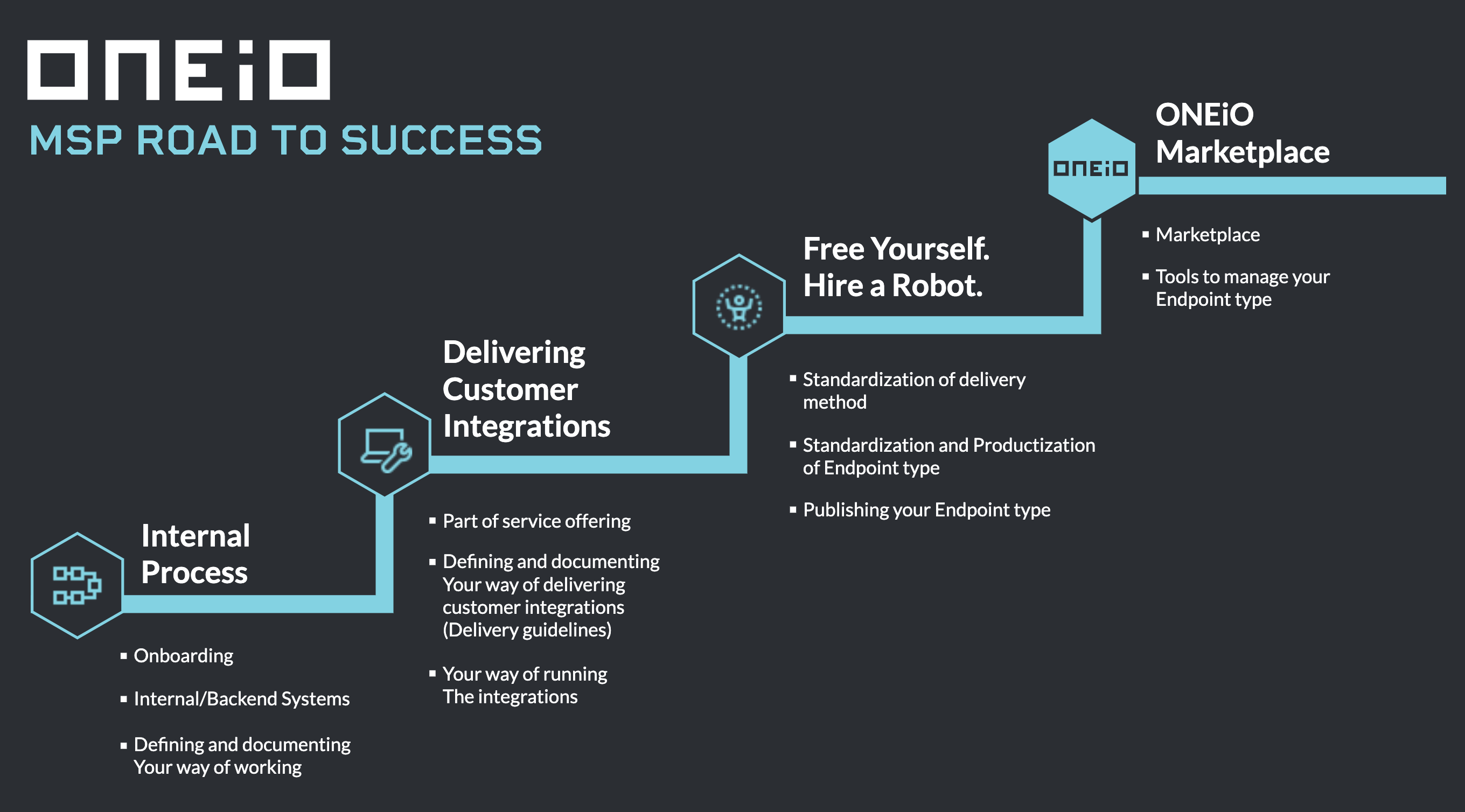 More than this, your services and specialist knowledge of their work as an organisation makes you more and more intrinsic and interconnected to their success as a business. This enables you to become a more trusted and critical supplier. It's a long-term strategy that begins with short terms wins, which might not have been available to you before through more traditional integration approaches.
MSP Case Study: TietoEvry simplifies their integration process with integration automation platform
Benefits of connecting B2B integrations with a robust integration automation platform
1. Enhanced collaboration between internal teams and your customers
2. Reduced time to value. Customer onboarding from months to days.
3. Save on ITSM software licence costs. All parties use their own tools. No swivel chair effect to your customer support people.
4. MSP's save on average 1300 work days caused by manual ticket handling
5. Save more than USD 250 000 of operational support costs each year (download our free TCO Calculator to check your saving potential)
MSP Case Study: Read how CDW decrease support and maintenance overhead with integration hub
Let us help
ONEiO is a cloud-native integration service provider. At ONEiO we have developed a specialised Integration Automation Platform for IT Service Management, which allows you centralised all your integrations in an easy to manage, fully automated and predictable way. It is designed for Managed Service Providers. You only pay for what you use and there are no setup fees, which makes it simple for you to setup clients in a low risk and high reward way. You can also get it as a turnkey solution and continue focusing on your customers - not your integrations.
ONEiO for Managed Service Providers
Read more about our offering for Managed Service Providers
Related contents:
All you need to know about vendor integration
Recorded webinar: Best Integration Practices for Service providers + ONEiO Demo. To watch it, please submit the form below: