Looking to save money while radically improving the usability experience of your systems? Then say no more, the integration automation platform also known as next generation iPaaS has finally arrived to cure past headaches created by integration chaos with a streamlined single integration hub.
In the past, Integration platforms and iPaaS has remained a segment of the IT sector that relied heavily upon service-heavy software solutions, services and long-winded projects to deliver successfully. These iPaaS solutions operated with point-to-point APIs that meant the software possibly offered a centralized tool for managing integrations but in order to set them up, everything was required to run on its own set of rails and operate from many rule books in order to communicate in a multitude of languages.
With the Integration Automation Platform, the portals and dashboards previously used have now been replaced with a single integration hub in front which is able to centralize every bit of communication between your tools and services. Since the hub relies on a more intelligent system of brokers and adapters, there is only a single language at the heart of the integration hub and every message is translated at the adapter stage which means it can be communicated to an unlimited number of systems in a many-to-many fashion.
To simply state it, the Integration Automation Platform (also known as next generation iPaaS) allows for every system or service in your software integration ecosystem to be compatible with one another and the best part is you will never need to touch a line of code or API to create a new connection, integrations take no more than a day to setup, and it is significantly lower cost than traditional iPaaS.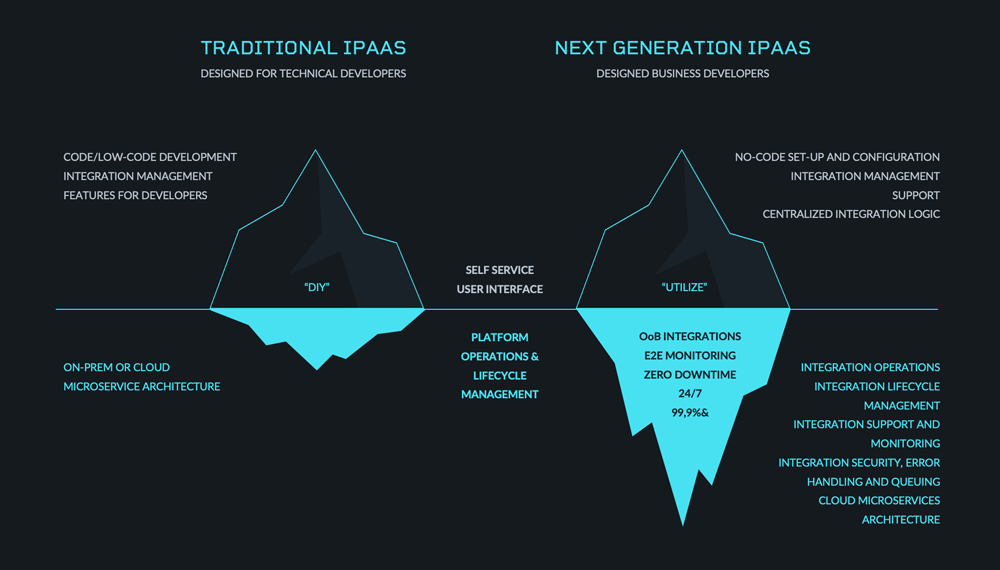 ONEiO Integration Automation Platform is a SaaS product with all the capabilities you need to connect your tools - without the line of code.
Main features of the integration automation platform:
Large variety of available endpoint types. Endpoint types go beyond standard connectors and adaptors by not only connecting, but communicating with the tools.

New endpoint types added by request, within weeks, free of charge.

Configuration can be as simple as entering a username and password.

Endpoint types are kept up to date by us whenever a tool changes their APIs.

Security included. Credentials to your tools are stored securely and encrypted.

Wide support for authentication standards such as Basic Authentication, Token, API Key, OAuth, and more.

Possibility to connect to your own or customer's internal networks.

Reverse proxies or whitelisting can be set up to access your tools.

Supports variety of data formats. Supports JSON, XML, CSV, plain-text formats and more.

Configure webhooks in your tool to send us change data. Send data via REST & SOAP or even email.

Pull data from an API, or via SFTP & SQL. Set up polling intervals to periodically retrieve most up to date information. ONEiO detects differences between polls to avoid duplicate information.
See more.
More related articles for integration automation: